Delegation working to prevent execution of Georgian national in Malaysia
By Salome Modebadze
Tuesday, April 3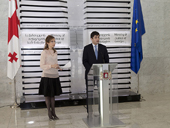 Deputy Prosecutor General Davit Sakvarelidze has left for Malaysia, to attend the court of Georgian citizen Babutsa Gordadze. Gordadze was detained for drug smuggling two years ago, alongside fellow Georgian national, Darejan Kokhtashvili.
The Georgian delegation, made up of representatives from the General Prosecutor's Office and the Ministry of Foreign Affairs, will meet the detainee and inquire after her health and living conditions.
"Georgia has no people to lose," President Mikheil Saakashvili said on Monday, stressing that the Georgian government will protect its citizens everywhere. The President expressed his concern about the fate of Kokhtashvili and Gordadze, the latter of whom still faces the death penalty.
After a successful conclusion to Kokhtashvili's case, Sakvarelidze is continuing negotiations with the Malaysian side to ease Gordadze's sentence. Kokhtashvili avoided the death penalty on March 30 and was sentenced to six years in prison, retroactive from the date of her arrest on October 25, 2010.
The President hopes that Gordadze will also avoid the death penalty. He expressed his respect for Georgia's Deputy Prosecutor General, who has been holding negotiations with his Malaysian counterpart.
The testimony of Eldar Davitiani, Gordadze's husband, will play a vital role in the conclusion of both cases. Last year, Davitiani surrendered to police and took responsibility for the transportation of the drugs, arguing that Gordadze and Kohtashvili were not aware of the presence of drugs in their baggage. He was sentenced to 15 years in prison on charges of illegal transportation of drugs.
Expressing her gratitude towards Georgian officials for supporting her family, Gordadze's mother hopes that her daughter will also avoid the harshest sentence.
Deputy Minister of Foreign Affairs Nino Kalandadze trusts the effectiveness of the government's role in the process. "We have enough reasons to hope that this woman will also receive a small sentence," she said.
As Kalandadze explained, the two countries have no agreement on the exchange of prisoners, but hoped that the Malaysian court will be "soft-hearted" towards Gordadze.
Drug-related crimes are strictly punished in Malaysia. Local legislation forbids any activity connected with drugs, and harshly punishes foreigners who attempt to smuggle contraband into the country.