Clean House provides laughs and pathos
By Salome Modebadze
Tuesday, April 3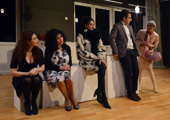 Comedy
The Clean House
recently premiered at the rectangular stage of the Tumanishvili Film Actors Theatre. The production, staged by the first-time director Nini Chakvetadze, was written by American playwright Sarah Ruhl, a Pulitzer Prize finalist. The play is a blend of joy and sadness, examining the house of a successful doctor named Lane.
The play centres on Lane, her obsessively cleanly sister Virginia, and her boisterous Brazilian maid, Matilde. Lane's husband leaves her to be with an older woman named Ana, who is dying of cancer. As she struggles with this, Virginia insists Lane hire a cleaning woman to take care of the house, even though Matilde prefers making jokes on her native Portuguese.
While the story is complex, the scenes are dynamic and clear, prompting the audience to look at life from different angles, including from inside their own hearts.
Although she is just beginning her career, Salome Maisashvili performs well as the joyful Matilde, who spends most of her time trying to create the "perfect joke".
The play has been regularly staged in Britain and the United States. Chakvetadze spoke of the difference between Georgian and American humour, and noting that their personal problems are also different.
"It's a bit difficult to bring [these emotions] to the Georgian audience especially in such a small space. It's a serious responsibility to amuse the audience without irritating them," she told
The Messenger
.