Bokeria does not rule out second war with Russia
By Ernest Petrosyan
Wednesday, April 4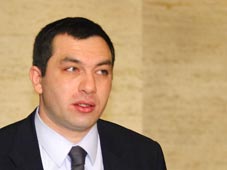 National Security Council Secretary Giga Bokeria has announced in an interview with
Ekho Moskvi
radio that he does not exclude the possibility of a new war with Russia.
Bokeria noted, however, that there are currently no imminent threats, due to multiple international factors, and therefore there is no reason to believe that any large-scale operations may come from the Russian side.
He did say, though, that Georgia intends to "lead the case to the end".
"This case of 2008 was not 'finished,'" he asserted. "Georgia continues the course that was the cause for aggression from Russia. This course is sovereign independence and integration into Euro-Atlantic society, including the EU and NATO". As long as Georgia expresses its will, there will be a problem with the government, so Bokeria believes that "we can't exclude such danger at all".
He added that the Russian military threat remains the main threat to Georgia, as militarization and military infrastructure development continues on disputed Georgian territory, most notably the upcoming Kavkaz 2012 military exercises.
Bokeria believes that Kavkaz is a cause for concern, both due to the simmering crisis with Iran, and the fact that the exercises will be held in and near the breakaway regions. However, at the 19th round of Geneva talks completed last week, the Russian side said that Russian troops located in Abkhazia and South Ossetia will not participate in the autumn drills. The Council Secretary expressed hope that pressure from the international community would prevent what he called "Russian aggression".
"I repeat that neither we nor others can exclude such a threat. There is another factor. This is terrorism. Last year we had over 10 cases of terrorist acts, including some successful attempts. We presented the evidence, including electronic evidence, that special services located in Abkhazia and South Ossetia coordinated the activities. We released specific names. Fortunately there have not been any attempts for some time and I do hope it will continue this way. Nonetheless, such threats still exist," Bokeria maintained.
Speaking about Moscow's dissatisfaction with Georgia's increased defense capability and cooperation with its main strategic partner the United States, the Secretary called the Russian response "cynicism".
He said that cooperation with the US helps Georgia to increase its defense capability, which is not aimed against any nation in particular. When asked whether there is value in refusing such cooperation to avoid irritating the Kremlin, Bokeria responded, "Maybe it is valuable to refuse statehood entirely? Because Georgia's statehood also irritates the Kremlin, but nobody intends to think this way in Georgia, neither the government nor the public. We know that Georgia's statehood irritates Russia, but we're not going to refuse this. We are not going to say no to the legitimate right to a defensive capability. This is none of their business. This is our cooperation with the US and this does not concern Russia. This cooperation is not against anyone," Bokeria maintained.
He said that, despite the fact that international law enables Georgia to protect its own territory using force, the President of Georgia made a commitment not to use force to restore territorial integrity. Bokeria also declared that in August 2008, steps taken by Georgia served only as self-defense against Russian aggression.
Asked whether President Mikheil Saakashvili will follow Russian President-elect Vladimir Putin's example and move to the Prime Minister's chair, the Secretary said that it is not appropriate to compare Russian and Georgian political realities, as both countries move in different directions.
Bokeria said that the real power, in the Russian informal reshuffle of positions, was still in the hands of one man. Such "castling" in Georgia is less feasible, as Georgia is being transformed from a presidential into a parliamentary system.