Georgian beverages on exhibition
By Etuna Tsotniashvili
Wednesday, April 4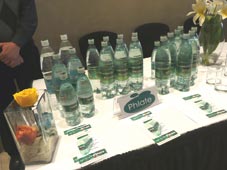 At the initiative of the Ministry of Agriculture, the Radisson Blu Iveria hotel in Tbilisi hosted an exhibition of Georgian mineral waters and non-alcoholic drinks yesterday.
Approximately 16 companies participated in the event, which was attended by government officials and representatives of the diplomatic corps. All guests had an opportunity to taste their favourite drink on the spot. As Deputy Minister of Agriculture Eter Karamauli said, such exhibitions will promote Georgian products among foreigners as well as the local population, as lesser-known companies had a chance to present their product at the exhibition.
The only representative from Adjara was Gundauri mineral water, which is new to the market and not yet well-known to consumers. As the company's public relations manager, Nino Jamakhashvili, told
The Messenger
, Gundauri is a mountainous village in Adjara and the water there boasts unique medical qualities that can be used for the treatment of diabetes and hepatitis. According to Jamakhashvili, due to a lack of investment they have been unable to distribute their product in Georgian stores, but hope to do so in the near future.
One of the most distinguished mineral waters is SNO, which originates in the southern slope of the Caucasus Mountains. It flows down to the lowland and gathers in an ecologically-pure water reservoir, located 150 metres below the Mukhrani Valley. Export Manager Alexander Machitidze notes that his product is recommended for use in baby food, as the water has a high calcium concentration, useful for bones and teeth.
The Kampa Company produces juices from a number of different fruits and offers clients a "natural" taste. Their drinks appeared in Georgian markets about three years ago, and have since covered the entire country. The company is now focusing its energy on exports.
"I have tried many different types of waters and I enjoyed [them] very much... also some soft drinks from different fruits. I am from Brazil and I did not know you had such diversity here. I recommend to all to drink them," Byron Amaral dos Santos of the Brazilian Embassy told
The Messenger
.