Ivanishvili citizenship request rejected
By Etuna Tsotniashvili
Thursday, April 5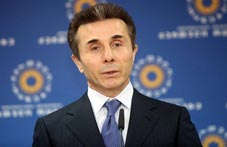 On the eve of the decision deadline, the Civil Registry Agency of the Ministry of Justice has announced that Bidzina Ivanishvili is not eligible to receive Georgian citizenship through the naturalization process.
Ivanishvili, currently a French citizen, has been instructed to apply for dual citizenship rather than through the naturalisation process which, according to Georgian legislation, refers to stateless persons.
"Mr. Ivanishvili, a French national, filed an application with the Civil Registry Agency of the Ministry of Justice requesting Georgian citizenship through naturalization. However, under the law, a foreign national cannot obtain Georgian citizenship through naturalization. Being a foreign national, Mr. Ivanishvili can seek Georgian citizenship through the dual-citizenship process, as provided by the relevant Georgian legislation for foreign nationals," a Civil Registry Agency statement read, adding that no such request has yet been filed by Ivanishvili with the relevant government agencies.
Archil Kbilashvili, of Ivanishvili's Georgian Dream coalition, has assessed the decision as "illegal", as current Georgian legislation allows the granting of citizenship through naturalisation when an individual is a citizen of foreign country.
"As a lawyer, I can declare with 100% assurance that it was an illegal decision. I would like to point to the President's order issued in 2009, on January 30, which refers to granting Georgian citizenship to a citizen of a foreign country though naturalisation. [On the form] through which one can appeal to the President with the request of granting citizenship, there is written: 'If my request is satisfied, I agree to [denounce citizenship of another country].'"
The citizenships of Ivanishvili and his wife, Ekaterine Khvedelidze, were suspended last fall. In December, the Tbilisi City Court overruled Ivanishvili's appeal regarding the restoration of his citizenship, but granted Khvedelidze's request, annulling President Mikheil Saakashvili's decree regarding the deprivation of her Georgian citizenship, and imposing a 100 GEL fine on Saakashvili in her favour.
If the opposition leader decides to re-apply for Georgian citizenship, the Civil Registry Agency advises him to use the dual citizenship process. This may require another three month wait for a decision which, alongside the standard waiting period for citizenship, means that Ivanishvili will be barred from participating in the parliamentary elections.
According to the law, the reasons the government may give for refusing to grant Georgian citizenship include if a person "has committed an international crime against peace and humanity"; "has taken part in a crime against the state"; or if the granting of citizenship would be "inexpedient" from the point of view of state and public security.
Ivanishvili will respond to the decision on Thursday, his press speaker Maia Panjikidze said.