Abkhaz Parliament elects Speaker amid rumors of government pressure
By Ernest Petrosyan
Thursday, April 5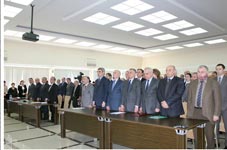 Valery Bganba, the newly elected parliamentary Speaker of Abkhazia, defeated opposition candidate Raul Khajimba in the internal election, thereby completing the breakaway region's Parliament.
Bganba says he welcomes a constructive parliamentary opposition, being convinced that "no democratic state can evolve without opposition," APSNYPRESS news agency reports.
"I realize completely the seriousness and the responsibility of the duties assigned to me as the Speaker of Parliament, and look forward to fruitful work with my colleagues," Bganba told reporters.
He noted that his first day in office will be dedicated to purely technical issues. "We, together with the elected Vice-Speaker, along with all the MPs, will have to form committees and commissions," he noted.
In answer to the question of whether the executive branch exerted pressure on the election, he remarked, "You know, those MPs whom you saw in the hall, one cannot press them. People voted as they [saw fit]."
Bganba also clarified the increase in the number of Vice-Speakers from three to four as coming from a members' proposal. Vice-Speakers Adgur Kharazia, Vagharshak Qosyan, Otar Tsvizhba, and Emma Gabisonia were elected by secret ballot.
However, Khajimba, a candidate from the opposition Forum for the National Unity of Abkhazia, who congratulated Bganba on his election as speaker, told journalists after the session that the result of the vote was not surprising, as it was pre-determined through a backstage deal between the government and most of the lawmakers. He asserted that the decision was the result of government pressure on the legislative body and expressed regret that MPs failed to resist this pressure from the executive.
"We were telling voters that we have to be an independent branch of the government and that we should not depend on anyone. However, unfortunately, reality turned out to be quite the opposite," Khajimba told Radio Liberty's Russian-language service, Ekho Kavkaza, on April 3.
Abkhaz President Alexander Ankvab addressed lawmakers during the session, saying that the increase in Vice-Speakers was necessary to "intensify Parliament's foreign contacts" and gain more friends.
Bganba was an MP in the 1990s during Vladislav Ardzinba's administration, as well as head of the local administration in Gagra from 2002-2006, before being elected to Parliament again in 2007. He also managed a health resort, Amra, in Gagra.
Bganba is one of only five lawmakers who maintained their seat in the breakaway region's new Parliament after two rounds of elections last month.