Burjanadze: Opposition suffering from "fear of political consensus"
By Gvantsa Gabekhadze
Friday, April 6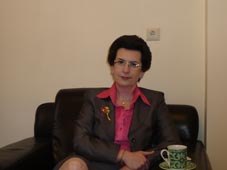 Earlier this week, The Messenger sat down with former Speaker of Parliament, current leader of the Democratic Movement-United Georgia opposition party, and active representative of the Representative Public Assembly, Nino Burjanadze.
You are a very controversial figure in Georgian politics; on one hand you were one of the key initiators of the Rose Revolution, but on the other hand, in Georgian politics today, you are an opposition leader with radical aspirations. Based on this, I am interested in your general assessment of today's political reality in Georgia.
I want to say the first question you ask is the result of serious activities carried out by the current leadership of Georgia. The term, "Burjanadze is a radical" is far from reality and I'll say why. The authorities created my "radical image" earlier than I had imagined. I was watching the "Former years" videos on YouTube concerning my husband's resignation on October 27, 2010, and Rustavi 2 broadcasted, "After Nino Burjanadze had decided to gather the radical opposition, her husband left his post". At the time of this broadcast, I had not formed a cohesive political party, so I was not in a position to make any radical statements. My party was created later, on November 23, 2010. The government, though, had already decided the "Russian radical" image must be stuck on me. If I were radical, I would have radical demands, like asking for the prohibition of National Movement. My so-called "radicalism" is revealed in statements that, after some period, came true. When I said negotiations between the majority and opposition would impose no outcome, unless strengthened by peoples' activeness and open support, has this not come true? Did the election environment improve? On the contrary, I know these authorities very well; they will not concede their power in any way, as will be the case, they will have to answer for many things.
The activity of the Representative Public Assembly has reduced recently. What is the reason for this? Is the Assembly still united in its aims?
The Representative Public Assembly is as united today as it ever was. I want to say, and underline strongly through your newspaper, that the events of May 26, 2011 were not assessed properly by local NGOs, the international community, or our Western allies. The main reason for this was the PR undertaken by current Georgian leadership. The organizer of the rally was portrayed as pro-Russian and anti-state. As for why the Representative Public Assembly is not currently as active, there are several reasons. After the brutal dispersal of that peaceful rally, we are facing many serious problems. Forty-two rally participants are still political prisoners. Since October, Georgia's political reality has changed due to Bidzina Ivanishvili's coming into politics. We, like many opposition parties, have been waiting. Now the waiting has ended, and I can say if the opposition proceeds like it's currently doing, the authorities will easily achieve victory in the elections. The claims, even from other opposition [parties], that the Representative Public Assembly supports the end of the government by taking to the streets and other radical actions is false; we have never said this. We have always supported a peaceful transfer of power. However, for this to be successful, certain pre-conditions are needed: Free media, free courts, non-politicized police, free business for financing opposition parties, and an independent Central Election Commission. It has no meaning what kind of election code is in the state if the country lacks these components. We have always appealed to the Georgian public to fight for achieving these five components, which would be the guarantee of free elections.
What do you mean, "If the opposition goes on like this"? How do you assess its actions? Negotiations between Georgian Dream and the Representative Public Assembly have been ongoing, but without any real outcome, what happens now?
What I mean is, if the opposition keeps its current inert strategy, they will achieve no goal. The opposition will no longer fight for a free election environment; our suggestion on the creation of voters' lists by commissioning international observers was ignored by Georgian Dream. Their pre-election strategy, which might work in France or in other European states, will be useless against Mikheil Saakashvili. Have you ever seen an autocratic government agree on the peaceful transference of power? Everyone within the opposition spectrum agrees that this is not a democratic government; I can't even remember an example from world history when non-democratic authorities lost an election. Here, when there is no consolidation of the opposition, when such problems are not within the government, when ideal initiatives are not taken into consideration by opposition parties with the reason that Burjanadze's name might be linked to it, and when they are engaged in making negative statements about me as equally as the government, nothing will come out of it. The rumors that the Representative Public Assembly wanted participation in [Georgian Dream's] coalition were also false.
Why do you think your suggestions and appeals are being ignored?
Fear of political consensus. Sensible people use good ideas, even if they are suggested by an enemy.
It has been said that one of the main obstacles in negotiations between Georgian Dream and the Representative Public Assembly is you. Are they merely blaming you or is there some grain of truth in this accusation?
The Representative Public Assembly does not think so. If it did I would have left the process. No one has proof that I disturb the process. If someone disagrees with me, this does not mean that I should go. No one has a right to force people to think or act the way he or she does.
American government representatives have made strong remarks about the pre-election environment in Georgia. How did you interpret those statements, and how should the authorities react to them?
I definitely know how the authorities will respond. The current Georgian leadership knows very well what the Georgian public can't guess. The US acts based on the reality in the state. Until the last moment, the US supported Mubarak; however, when it saw the public's will and attitude, America changed its position. The Georgian public will only be supported by the US and the rest of the civilized world if it principally defends its votes and expresses a strong will in the election environment.
Is there anything else you would like to conway to our readers?
I want to say to your readers that in reality [President of Belarus Alexander] Lukashenko is not the last dictator of Europe. Saakashvili does the same things but with masked and refined methods. I want to say as well that we are a pro-Georgian force, wanting active collaboration with our foreign allies and balanced and good relations with our neighbours.