Joining Regional Actors for Local Economic Development
By Ernest Petrosyan
Friday, April 6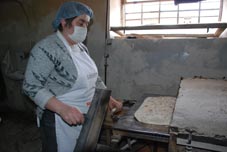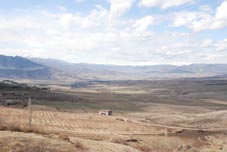 What competitive advantages do the border regions of Georgia and Armenia have? How can they be used to stimulate economic growth in rural areas to benefit the poor? How can government, private sector and civil society cooperate to make that happen?
A cross-border project covering the Kvemo Kartli and Samtskhe-Javakheti regions in Georgia and Lori and the Tavush and Shirak regions in Armenia is just taking off to address these questions and promote an enabling environment for pro-poor socioeconomic development. CARE International in the Caucasus is implementing the project Local Actors Join for Inclusive Economic Development and Governance in the South Caucasus (JOIN), to achieve these goals through participatory planning, improved cooperation and exchange of markets relevant information among local governments, civil society organizations and the private sectors.
Together with CARE staff members, I head to Noemberyan, one of the municipalities in Shirak region, on the other side of the border. We are seeking to learn firsthand from the locals what they see as the competitive advantage and potential of their region.
Andranik Veronyan, Head of a Local NGO called Yerevak, greets us at the Georgia-Aremnia border in a business-like manner and takes us to a private dry fruit processing facility. The production process is stalled now because of the season (wintry weather?) and the owners are still struggling with the distribution. Given Noemberyan's proximity to Tbilisi rather than to Yerevan, the owners are eyeing Georgian supermarkets as their target buyers. Peaches and apricots are Noemberyan's most well-known fruit items and vast orchards of apricots reaching almost the horizon demonstrate the region's potential. Yes, Andronik notes, the connection to markets is weak and this potential to link to Georgian supermarkets is not fully exploited.
Further on our way, we visit a small bakery which produces bread and confectioneries. The enterprise employs 12 people, mostly women. In one room two women are making the dough to produce Armenian lavash, and in another, some women are baking cakes in a traditional stone-built Armenian oven with an arch-shaped opening, using wood, not electricity. The owner describes how the production process goes, how he manages to stay competitive in the market, and how he collects raw materials for production.
"The bakery imports flour and honey from Yerevan while the locals note that honey is the competitive advantage of Noemberyan," comments Mikheil Pakatsoshvili, project coordinator, while listening to him. "This demonstrates that something is wrong with the value chain. This is precisely our objective: to allow stakeholders to discover the problems that hinder economic growth and to address them collectively."
The project also seeks to coordinate dialogue among local government, NGOs, and private sector to establish working groups to achieve the project's socio-economic development goals. The project also envisages the establishment of business development and information centers in target regions to provide trainings and market-relevant information in support of strengthening local value chains.
A baseline study which a consulting company is now conducting for the project revealed that agriculture has the most potential for both Armenian and Georgian regions while tourism comes the second. The results of the study will be presented at a conference on April 18 this year at the Tbilisi Marriott. The conference engages private sector, local government and CSOs in order to formulate a strategy on working together (visit www.care-caucasus.org.ge for details).
Sok-Chea Ung, Program Director Development CARE Austria, sees great value in the cross-border project.
"Both sides can benefit from regional development but if the community wants to develop they should have a strategic plan and support," she said. "One is focusing on dried fruits, another one is focusing on tourism. It would be a good chance to see how it would be developed in a couple of years. The idea of the project is to help facilitate a startup. Within three years it will not be possible to solve all problems, but in three years, but we can established a good base to build on, with further development led by the community when their capacity is strengthened," she continued.
JOIN is funded by Austrian Development Agency (ADA) and implemented by CARE Austria and CARE International in the Caucasus together with the partner organizations – Civil Development Agency (CiDA) in Georgia and Center for Agribusiness and Rural Development (CARD) in Armenia. The total budget for the project is 1,135,200 Euro.