Kalandadze confirms Boden barred from high-level government meetings
By Ernest Petrosyan
Friday, April 6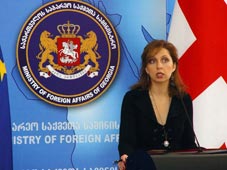 Deputy Foreign Minister Nino Kalandadze has announced that "cooperation in any from on an official level" with former head of the Organization for Security and Cooperation in Europe (OSCE) monitoring mission to Georgia Dieter Boden will be "restricted", though she denied allegations that President Mikheil Saakashvili refused to host a delegation that included Boden as a member.
Kalandadze said that the German Marshall Fund themselves canceled the visit due to Boden's presence in the delegation.
"The wrong information was spread, [implying that] we hindered the delegation's visit to Georgia, and their visit was blocked. I say with certainty that this it not true," Kalandadze asserted, referring to comments from Boden reported by the media, stating that President Saakashvili refused to receive the Marshall delegation if Boden was included.
The Georgian government works closely with the German Marshall Fund and the Robert Bosch Foundation, she continued, maintaining that Georgia welcomes their delegations. She noted that Boden publicly criticizes the policies of the Georgian government with regards to the breakaway regions, ones which are agreed upon by Georgia's international partners. Kalandadze noted that Boden has called the government's strategy towards the disputed territories "illusory" and "unrealized".
The Deputy Foreign Minister added that in his public statements, Boden has compared Georgian authorities with the Third Reich in fascist Germany. "He says that Georgia has to admit its mistakes to its enemies and victims once and for all, as Nazi Germany did," she said, affirming that this position is unacceptable to the Georgian government and to "any Georgian".
Kalandadze therefore announced that cooperation with Boden on an official level and in any form will be restricted. "It is difficult for me to imagine the manner [in which] we can cooperate with this person," she remarked.
She noted that Boden may visit Georgia at any time, but that the Georgian government will restrict his participation in high-level meetings.
"We are ready to host delegations at any time, including [with those] members that express criticism of the government of Georgia [or] have positions that differ from Tbilisi. But the issue must not concern principal and fundamental topics that are absolutely unacceptable to Georgia. If Dieter Boden is still discussed, our decision not to meet him at a high level will remain in force," she avowed.
Boden, the former OSCE and UN Secretary General Special Envoy to Georgia, has been "infamous" among Georgian officials due to his criticism of their policies towards Abkhazia and South Ossetia. Boden led the OSCE mission to Georgia in the 1990s, later being named a Special Representative of the UN Secretary General in regulation of the Georgian-Abkhaz conflict.