Ivanishvili to push forward with elections, regardless of citizenship
By Gvantsa Gabekhadze
Friday, April 6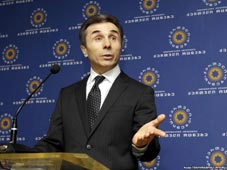 On Wednesday, the Civil Registry Agency denied Bidzina Ivanishvili's request for the restoration of his citizenship through naturalization. While the final decision is to be made by President Mikheil Saakashvili, this leaves little time for Ivanishvili to participate in the fall elections as a Georgian citizen.
"Ivanishvili, a French national, filed an application with the Civil Registry Agency of the Ministry of Justice requesting Georgian citizenship through naturalization. However, under the law, a foreign national cannot obtain Georgian citizenship through naturalization," the Civil Registry Agency reported .
"The resolution of the Agency was so weak that I am not going to comment on it," Ivanishvili commented. "Even those who had some doubts regarding the illegality of the seizure of my citizenship are sure that the government violated the law [with this decision]".
Ivanishvili's lawyer, Archil Kbilashvili, called the decision "absolutely illegal", as Georgian law ensures citizenship for those who are stateless, as Ivanishvili's renunciation of both Russian and French citizenships have nearly made him. However, Georgian Dream will wait for the President's decision, Kbilashvili said, and only then will they decide how to act. At the Agency's recommendation, Ivanishvili may appeal to the President for dual citizenship.
Ivanishvili has already announced that an official political party, the Georgian Dream-Democratic Movement, will be established on April 21. Afterwards, a formal political block will be launched, called Ivanishvili-Georgian Dream, with the billionaire listed on its ticket as candidate for Prime Minister. "I am establishing a political party as a citizen of Georgia. I promise that Georgian citizens will be able to come to the elections and make their choice freely," he said.
While Georgian Dream and the Civil Registry Agency have been engaged in discussions on how Ivanishvili may move forward with his request, the Christian-Democrats believe they have found a solution. "We demand from the government, in the process of discussing constitutional amendments initiated in Parliament, to actively discuss an idea offered by us, [one] that is based on EU precedent... [To] provide citizens of France, an EU member country, who have lived in Georgia for ten years, [with] political rights – namely, to register for elections [and] take part in elections," leader of the Christian-Democrats, Giorgi Targamadze, explained.
Targamadze believes that if Ivanishvili is granted such rights, Georgia would have a more constructive election.
Response to the Christian-Democrats' suggestion from the administration was positive. Pavke Kublashvili, chair of Parliament's Legal Committee, confirmed that the draft bill will be discussed at the end of May, and said that he hopes it will end some "speculation".
Moreover, government MP Goka Gabashvili noted that Ivanishvili may take part in the elections and with all those political rights every politician has in Georgia, claiming that "Ivanishvili's citizenship has no connection with politics".
American ambassador to Georgia John Bass also commented on the citizenship debate, remarking that such issues must be solved according to the principle of equality before the law, and called on the Georgian government to conduct themselves according to this principle.