Russia dismisses concerns over Kavkaz 2012
By Ernest Petrosyan
Wednesday, April 11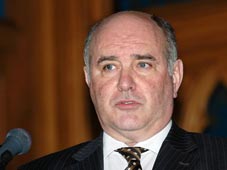 Grigory Karasin, Russia's Deputy Foreign Minister and chief negotiator at the Russian-Georgian Geneva talks, said that it is "barely appropriate" for Georgia to be concerned about the Kavkaz 2012 Russian military drills scheduled for September.
Karasin noted that during the most recent round of Geneva talks on March 29, the Russian side briefed the participants about the planned military exercises, adding that they will not take place off Russian territory.
"Such command and staff drills of the Russian armed forces are conducted regularly in various regions of Russia," Karasin added in an interview with Russian magazine Ogoniok.
"Participation in these exercises of our military units or military bases deployed abroad, as well as militaries of foreign countries, is not planned. Stirring up a fuss about it is hardly appropriate. It seems to be again aimed at addressing the political goals of the Georgian leadership," he remarked.
Georgian officials are concerned about the exercises, as the last such event in 2008 coincided with the war in South Ossetia. In addition, President Mikheil Saakashvili asserted that Kavkaz 2012 was timed deliberately to coincide with Georgia's parliamentary elections.
"It is not just a coincidence that our neighbour scheduled its large-scale military exercises for the second half of September, just several days before [our] elections. This timing is really not a coincidence," Saakashvili said on March 31.
After the 19th round of Geneva talks, Georgian Deputy Foreign Minister Sergi Kapanadze said that the Georgian side received "some encouraging clarifications" from the Russian negotiators about the planned military drills. He said that Georgia was told that Russia was "not going to involve Russian troops located outside the Russian Federation" in the planned military exercises.
"If this statement by Karasin is confirmed by the Russian Ministry of Defense and if the facts on the ground correspond to this statement, then we would say that this is a positive development," Kapanadze noted.
In January, Russian News Agency RIA Novosti reported that large-scale drills would also involve Abkhazia's and South Ossetia's military units. Tbilisi was also informed that the drills would include forces stationed in the Russian military base in Gyumri, Armenia.