BP Official Partner for Georgians at London Olympic Games
By Danielle Edwards
Wednesday, April 11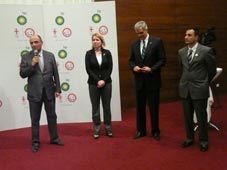 Spirits were high as Neil Dunn, head of BP Georgia, officially announced the partnership of BP with Georgia's National Olympic and Paralympic committees and introduced its six Georgian Ambassadors for the 2012 London Olympic Games.
Dunn said BP was excited to be a major sponsor of the Olympics and pleased to be continuing its support and relationship with Georgia through the sponsorship of the Ambassadors. Three athletes were chosen from the Georgian Olympic team, Davit Marsagishvili, Varlam Liparteliani and Luba Golovina and three from the Georgian Paralympic team - Iago Gorgodze, Shota Omarashvili and Nikoloz Tvauri, with Dunn saying, "They were chosen not just for their athletic abilities, but also because of their fine character. They are outstanding individuals and the pride of Georgia".
The Head of Georgia's National Olympic Committee Gia Natsvlishvili thanked BP for its support, and said Georgia had great plans for the London Olympics, promising, "We will do better than Beijing". Natsvlishvili said since signing the agreement with BP two weeks ago, the National Committee had already increased its competition licences to 20, and the Committee has high hopes for increasing its licencing numbers further during the months of April and May. Acknowledgement was also given to the Paralympic committee for its one licence, and its head Levan Odisharia said Georgia hoped for an increased presence at the Paralympics, by offering an unprecedented number of Paralympic athletes.
Special thanks was given to the British Embassy for their logistical support in helping Georgian Olympians get to London. Britain's Georgian Ambassador Judith Gough said she was pleased a great British company [BP] was partnering with Georgia, and offered the Embassy's continued support.