Ivanishvili will not repeat appeal for citizenship
By Gvantsa Gabekhadze
Wednesday, April 11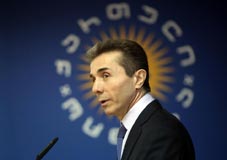 Bidzina Ivanishvili will not appeal to President Mikheil Saakashvili for dual citizenship, according to a statement released by Georgian Dream spokesperson Maia Panjikidze on Tuesday.
As Panjikidze explained, only one person, the President, decides whether or not to grant citizenship. "Saakashvili has already rescinded citizenship from Ivanishvili and appealing to him to grant dual citizenship to Ivanishvili is illogical".
Georgian Dream has also appealed to the Minister of Foreign Affairs to publicize the letters sent to international organizations asking for elections monitors to be sent to Georgia earlier than usual. "This is important, as society should not be cheated one more time," Tina Khidasheli, a coalition representative, said. The party also maintains that the idea to invite observers early was an initiative of the opposition, and the government is taking the credit.
She noted that a delegation from the Liberal Democratic Party of the European Parliament will visit on May 10, at the invitation of Georgian Dream.
Representatives of Georgian Dream have also met with a Georgian journalist living in Switzerland, Vakhtang Komakhidze, who has been publicizing information about government action against Ivanishvili over facebook. "We pay serious attention to such statements as nothing is above the current leadership of Georgia. The Georgian authorities know that their defeat is inevitable," the coalition said in a statement.
The administration has maintained that Ivanishvili will be able to participate in the elections with all rights afforded to other politicians, and assert that his failure with the electorate is "inevitable". In response to accusations of civil rights violations, they emphasize that human rights are protected in Georgia, and the country does not have a problem with violations.
As political analyst Malkhaz Chemia told
The Messenger
, having international observers present in Georgia several months before the election is not in the administration's interest, and their invitation only indicate the government's weakness. He notes that "foreign observers will not only observe the situation, they will also have time to give recommendations and demand their fulfillment... It will be a long-term observation mission, a first in Georgian elections". Observers usually arrive the week before election day.