Georgia unveils unmanned drones after Israel scandal
By Ernest Petrosyan
Thursday, April 12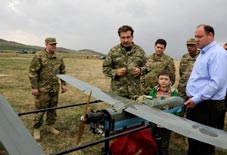 The Ministry of Defense unveiled the first ever Georgian-made catapult-launched unmanned surveillance aircraft with a test flight on Tuesday, not long after a failed attempt to purchase similar weapons from an Israeli firm.
According to the Defense Ministry, the drone is able to fly up to eight hours and can reach up to 3000 metres in altitude with a top speed of 160 km/h. It is equipped with a dual camera gimbal, with both photo and infrared cameras, which can be used for reconnaissance, surveillance, coast and border patrol missions, as well as for civilian purposes. The aircraft is also equipped with a parachute system and an airbag for safe landing.
In his remarks during the presentation, Saakashvili said that Georgian engineers had been working on the project for the last 18 months, and promised that the drone would be further improved within the next year-and-a-half.
"The advantage of a drone is that, abroad, a seller may not give you the full technology or may share technology [purchases] by you with your adversary," Saakashvili also noted. "No one will share this [technology] with others; it's ours".
This is not the first time the President has touched upon the risk of sensitive data being shared. When presenting a Georgian-manufactured multiple rocket launcher in March, Saakashvili also said that by having local military production "you do not depend on others, that someone may cheat you or share data with others".
In neither instance did Saakashvili cite any particular case, however both of these remarks echoing recent problems Georgia has faced acquiring weapons produced abroad, details of which has emerged after WikiLeaks published emails from the US-based global security analysis company.
Georgia had attempted to acquire drone aircraft from the Israeli company Elbit Systems, in a contract signed in 2007. Late last year, it was revealed that the Georgian government owed $100 million USD on the deal, and was being sued by the corporation. In December, the case was settled with a $35 million payout and the return of some equipment.