Chaglar supports Georgian language with competition
Thursday, April 12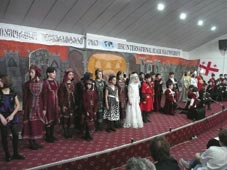 The Chaghlar education organization celebrated Georgian Language Day with a competition at the International Black Sea University.
The goal of the Olympiad dedicated to the Georgian language was to popularize the language countrywide among both native speakers and those interested in learning the language. The Olympiad involved grade I-VI schoolchildren from schools across the country, including Tbilisi, Khashuri, Rustavi, Akhaltsikhe, Marneuli, Kutaisi, and Batumi. It also involved children from non-Georgian and private schools, as well as foreigners. Top participants were awarded in categories such as singing, dancing, and reciting, among others.
The event was carried out under the initiative of the Turkey-based Chaglar educational institutions, the Ministry of Education and Science of Georgia, and the Department of Manuscripts National Centre of Georgia.