EU Ambassador dismisses fears of paramilitary groups
By Ernest Petrosyan
Friday, April 13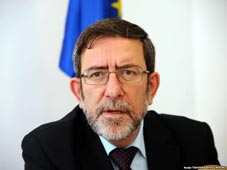 European Union Ambassador to Georgia Philip Dimitrov expressed his doubts about claims by Free Democrats leader Irakli Alasania that the government is forming illegal paramilitary groups in Zugdidi.
"I would like to note that the EU is very seriously represented in Georgia, not only with those whom I represent but also with, for instance, 200 persons that are constantly monitoring the current events in Georgia, especially in the conflict zones," Dimitrov said in an interview with Maestro TV on Wednesday.
"If anybody tries to prove that there are processes in Georgia that the EU monitoring mission does not notice [or] cannot see, this means that we, the European Union, are not trustworthy and I cannot accept this," he maintained.
"It is very important to remember that these [people] are doing their job and on the other hand, it would be very unfortunate if there is no proper communication between them and the government," he continued.
"I think the Georgian people understand that the monitoring mission exists because it is important not only for the Georgian government, but first of all it is important for the Georgian people. It is very easy to withdraw the mission; much more difficult to maintain it. We however maintain them and their role is appreciated," Dimitrov added.
Alasania responded that he had had a telephone conversation with Ambassador Dimitrov who, according to Alasania, does not actually endorse his stated views. Alasania accused the InterPressNews agency of reporting inappropriate information, which did not correspond with Dimitrov's words.
Almost a month before, Alasania, while meeting with foreign diplomats, accused the government of organizing "paramilitary groups" in the western Georgian town of Zugdidi, located near the Georgian-Abkhaz administrative border.
As Alasania told the assembled diplomats, "Before it is not too late and before we have another Homs in Zugdidi or some other place, I am begging you, please, start reacting; we can still change these dramatic events, which we will face if this goes on before [the elections in] October," Alasania pleaded.
He then sent a dossier of evidence, including the names of people involved in the alleged groups, to the National Security Council (NSC).
In response to the allegations, Secretary of the NSC Giga Bokeria said that Alasania's file did not contain "any valuable information". Bokeria stated that those on the list are employees of the Ministry of Internal Affairs, the Ministry of Defense, and regional police departments, as would be expected from a volunteer reserve system like the one the government has announced is being enacted in Samegrelo.