Saakashvili promotes Georgian defense industry
By Salome Modebadze
Friday, April 13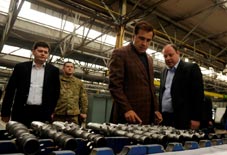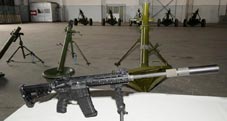 President Mikheil Saakashvili has emphasized the importance of a strong defence system as "the main guarantee for peace".
"In every village the Defence Ministry entered, despite their ethnic origin, all men enrolled," Saakashvili said, announcing that 70 000 volunteer reservists will be trained this summer. Welcoming the increased interest of older men in service, the President called it a phenomenal result for the country, "which irritates its enemies and their Georgian agents."
The re-arranged reserve system will support the 30 000-member armed forces so that soon every village will have its own defence detachments.
Speaking of patriotism as the obligation of every citizen, Saakashvili stressed that training is not enough without the relevant equipment. "We saw that we need to protect our territories in 2008 and that no one would do it for us," the President said, surveying the Delta factory the manufactures Georgian combat vehicles like Lazika and Didgori.
An Unmanned Aerial System suitable for most complex missions was tested in extreme terrain and weather conditions. As the President said, Georgian specialists and factories can compete with the world's leading countries. "I would be very glad if we could depend on our own weapons," adding that as soon as Georgia can satisfy local demand it will begin exporting arms.
Stressing the necessity for bringing home those Georgian engineers who work abroad, Saakashvili said that factories like Delta are the basis for Georgia's economic development.
Suggesting making Georgia five and six times better than the average European country, Saakashvili emphasized that despite the tricks made by local and foreign enemies, no one will hinder Georgia's development as an independent country because the industry is staffed with qualified specialists, and the reserve system and armed forces are keys factors for containing any aggressor.
Praising how gifted Georgians are in science and technology, the President said that this factory codifies existing technologies, but will also study new technologies in order to become more competitive worldwide.
Claiming that Russia is attempting to imitate Georgian reforms, Saakashvili spoke of the differences in the scale of the two countries. "It [Russia] is a different country, different production and different scale, and we can't be their competitor," he said, welcoming the fact that Georgia has made a lot of progress in military production, a field which has been traditionally "monopolized" by Russia, and hoping that the Delta factory will become a symbol of this progress.