Scare tactics used by Russian leadership
By Ernest Petrosyan
Tuesday, April 17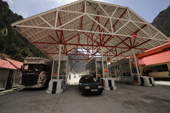 Georgian Foreign Ministry in a responsive statement on April 12 said Russian authorities were "Confused" with the increased inflow of Russian tourists to Georgia, and had decided to 'scare' their citizens from visiting Georgia'
Earlier, Russian Foreign Ministry recommended its citizens to refrain from travelling to Georgia due to the "absence of security" for Russian citizens due to the Georgian law on occupied territories.
"The Georgian President's initiative to unilaterally annul visa requirements for the Russian citizens has triggered a significant increase in the number of tourists wishing to travel to Georgia from Russia," reads the Georgian Foreign Ministry statement.
"The Russian authorities are obviously embarrassed. For absurd reasons they initially refused to reciprocate [annulling visa rules for Georgian citizens] for absurd pretexts, and then tried and are still trying to scare their own citizens with trumped-up threats," the statement says.
It reads the Russian Foreign Ministry's statement revealed Russian leadership is "against not only the Georgian authorities, but also against normal relationship and friendship between Russian and Georgian people.
"The Russian authorities have a serious fear that Russia's false propaganda and fallacious nature of Russian leadership's policy towards Georgia will become obvious for more and more Russian citizens as a result of visiting Georgia.
As for the law on "occupied territories" the statement says that it was adopted in October 2008, in response to Russian aggression and further occupation and recognition of independence of Georgia's breakaway regions. The aforementioned makes it illegal for foreign citizens to enter into breakaway Abkhazia and South Ossetia from territories other than those controlled by Tbilisi; the law also sets a series of exceptions to this rule. Violation of the law can result into a fine or a jail term from two to four years.
It also said this attempt by the Russian leadership to scare its citizens away from visiting Georgia would not work and the Russian citizens would themselves see there is no risk whatsoever in travelling to Georgia, but only sweet memories.
According to the Georgian President's spokesperson, Manana Manjgaladze, as a result of the unilateral decision to lift visa requirements, the number of visitors from Russia reached 30 000, which she said was 70% more than the same period last year.