One Hundred Years of Raoul Wallenberg
Wednesday, April 18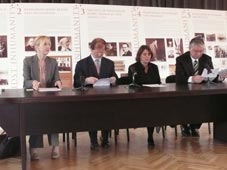 Tbilisi is celebrating what would have been the one hundredth birthday of Raoul Wallenberg, the Swedish diplomat who saved tens of thousands of Jewish lives during World War II, by issuing them protective Swedish passports while serving in Budapest, Hungary. The World Democratic Community pays tribute to the memory of this great man who, through his bravery and moral courage, gave a significant lesson in humanity to the world.
A memorial press conference was held on Tuesday by the Ambassadors of Hungary, Israel, and the deputy Head of Mission of Sweden to Georgia. Today, a variety of celebratory events are taking place in Tbilisi, including a photo exhibition titled
Raoul Wallenberg - a man who changed the world
; a seminar on Wallenberg's activities and the Holocaust; joint lighting of candles in memoriam of Wallenberg and of Holocaust victims, followed by a reception; and a screening of the Swedish film,
Good Evening Mr. Wallenberg and also some other events
.