NATO reaffirms commitment to Georgia at Russia Council meeting
By Ernest Petrosyan
Friday, April 20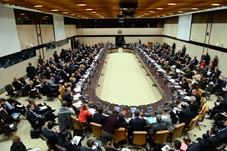 NATO has reminded Russia that it is still has "disagreements in principle" over Georgia, at a NATO-Russia Council meeting of alliance foreign ministers and their Russian counterpart Sergey Lavrov in Brussels on Thursday.
"We must acknowledge that we do not always see eye to eye. NATO and Russia still have disagreements of principle on issues such as Georgia. We insist on full respect for Georgia's sovereignty and territorial integrity. And we call on Russia to live up to her international obligations in that respect," said NATO Secretary General Anders Fogh Rasmussen in a statement after the meeting, adding that while the alliance must not shy away from such disagreements, they should also not paralyze a partnership with Russia.
"Firstly, reflect that Georgia is one of the major contributors to our operation in Afghanistan. Secondly, reflect that Georgia in general is a major contributor to the trans-Atlantic cooperation within the special NATO-Georgia Commission and thirdly, that Georgia is also considered an aspirant country, a country that aspires to become a future member of NATO," Rasmussen said prior to an alliance ministerial meeting on April 3.
In response to Rasmussen's statement, Russian Foreign Minister Sergey Lavrov held to his government's previouslne. He harshly criticized NATO foreign ministers for naming Georgia in their joint communique among the "aspirant" countries of the former Yuogoslav republics of Macedonia, Montenegro, Bosnia, and Herzegovina.
Speaking at a news conference in Brussels after the NATO-Russia Council on December 8, Lavrov previously said that he had "openly warned" his counterparts from the alliance that such statements might serve as encouragement for President Mikheil Saakashvili to undertake "an adventure similar to the one of August, 2008".
"I noticed that yesterday's communique, adopted by the NATO foreign ministers, contains the term 'aspirant countries', and among them was named Georgia too. I openly warned our colleagues not to again push, wittingly or unwittingly, the current regime in Georgia towards repeating an adventure similar to the one of August, 2008… it was shortly after the [April, 2008 NATO] Bucharest summit, during which [NATO] imperatively stated that Georgia will join NATO," Lavrov said, adding that the NATO Bucharest summit decision served as an encouragement of an "insane" and "reckless" decision. He also expressed concern about the Georgian rearmament process.
Georgian Foreign Minister Grigol Vashadze said, from Brussels, that the Russian Federation itself undermines peace and stability in the South Caucasus region but placing heavy artillery in the breakaway regions of Abkhazia and South Ossetia.
Meanwhile, Georgian officials maintain high hopes for the upcoming Chicago summit. Davit Bakradze, the Speaker of the Georgian Parliament, expressed hope that Georgia would see in the summit's final declaration a statement affirming that Georgia is now "closer to NATO membership".
"We expect at the Chicago Summit that everything what we've been told before will be put on paper... First of all, these are the statements that we have heard [time and again] that Georgia is closer to NATO and closer to membership in the alliance than it was in Bucharest or ever before," Bakradze told journalists.
Giorgi Baramidze, the Georgian Minister for Euro-Atlantic Integration, hailed the wording of the communique, noting it was "the first time when Georgia was named in an official NATO document in the status of a NATO membership candidate country".
Georgian experts agree that Lavrov's statement will not hinder NATO's cooperation with Georgia. On the contrary, NATO and its member states will continue to cooperate with Georgia, and involve the country in the alliance on a step-by-step basis.
In the context of the meeting, Vashadze met US Secretary of State Hilary Clinton at NATO headquarters in Brussels on Wednesday. The sides, according to the Georgian Foreign Ministry, discussed issues related to the Chicago summit as well as the ISAF mission.
"We talked about the importance of keeping the door to NATO membership open to these countries and to use the Chicago summit to send a signal of what they would continue to need to do in order to become members," a US Department of State official commented.