Georgian Dream-Democratic Georgia releases declaration
By Ernest Petrosyan
Monday, April 23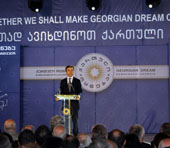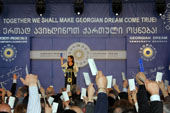 The Leader of the Georgian Dream coalition, billionaire Bidzina Ivanishvili, has launched his official political party, Georgian Dream-Democratic Georgia, at an inaugural congress in Tbilisi, Sunday, hopeful that his newly-established party will succeed.
Ivanishvili, however, is still not legally permitted to found or chair a political party, as the planned constitutional amendment which would enabling him political rights without Georgian citizenship, is pending in Parliament. Appointed as the party's interim chairperson is Manana Kobakhidze, a lawyer who previously served as head of the Tbilisi-based human rights advocacy organization, Article 42 of the Constitution.
According to Archil Kbilashvili, Ivanishvili's lawyer and party member, she will be replaced by Ivanishvili as soon as the Constitution grants him political rights in Georgia.
Georgian Dream's 11-seat political council, the party's main decision-making body, consists of Kbilashvili, as well as former Ombudsman and co-founder of Georgia's Party Sozar Sobari; former Foreign Minister and Georgian Ambassador to the US Tedo Jabaridze; military analyst Irakli Sesiashvili; economics professor at Tbilisi State University and former member of Nino Burjanadze's party Nodar Khaduri; writer Guram Odisharia; former editor of Rezonansi Eliso Chapidze; scholar Ivane Kikhuradze; Gela Khvedelidze, formerly of the National Forum party; Tamaz Avdaliani of a Kurdish rights group; and former lawmaker Guguli Magradze
In his remarks, Ivanishvili criticized the government's foreign and domestic policy, saying their established methods of management have created a real threat to democratic development.
"Political processes developed since the 2003 Rose Revolution and certain successful reforms were replaced by facade democracy and authoritarianism. Expectations of a better future have turned into disappointment for most of the public. An irreversible process of impoverishment is under way. For most of the public, healthcare and education is unavailable," he stated.
He highlighted issues such as elite corruption, monopolized business, and the volume and increase in foreign debt.
"Human rights are violated everywhere. Innocent people's life, health, and freedom are not protected. The important part of the media and court is controlled by the government. Army, police, prosecutor's office are also politicized," Ivanishvili claimed.
"The Constitution is devastated. Frequent changes to the Constitution and laws have gone beyond legal and moral norms. The government failed to prevent or efficiently resist the military aggression against our country, which caused considerable human casualties, moral and material damage and occupation of [our] territories," he continued.
The Georgian Dream party declaration, adopted the same day, establishes its priority to change the government through elections.
"This is a necessary condition for the survival of Georgian statehood, as well as the security, freedom and prosperity of future generations," the declaration reads.
"The party will fully support establishment of political unity of opposition forces within the Georgian Dream coalition. It will also intensively cooperate with other political forces, who share the coalition's views included in the founding declaration," the party announced.
According to the document, the party's strategic goal is to reduce the unemployment rate and increase the number of taxpayers. "The budget should be strengthened by the number of taxpayers and not by increased taxes," the declaration states.
According to Ivanishvili, further agricultural development will be achieved through attracting investment to this sector. He also noted that the fight against crime should be stricter as, according to the declaration, a safe environment is a critical factor in the development of the country.
Ivanishvili also believes that Georgia's foreign policy should be oriented towards European and Euro-Atlantic integration, but that regional cooperation and normalization of relations with Russia is very important.
In conclusion, Georgian Dream-Democratic Georgia expressed its readiness to assume responsibility for driving the country out of political and economic crisis, protect citizens' fundamental rights and freedoms, and achieve internal national consensus.