Georgian cheese festival promotes art, cuisine, and industry
By Etuna Tsotniashvili
Friday, April 20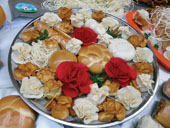 The Ministry of Agriculture hosted a Georgian cheese festival in Kakheti's marvellous village of Tsinandali on Saturday.
With the goal of popularizing Georgian cheese and raising awareness of it among foreigners living in Georgia, as well as among the local population, the festival attracted hundreds of people including diplomats, international organisation representatives, government officials, and cheese lovers.
Forty companies from all regions of Georgia presented their cheese made in accordance with traditional recipes, alongside unique cheese art and original figures made from cheese. Besides popular types of Georgian cheese, there were ancient and almost forgotten ones.
People interested in cheese-making had an opportunity to learn about and observe the technology and techniques for producing Georgian cheese.
"We have a number of ancient and forgotten types of cheese and we want to popularise them and introduce those types of cheese to consumers. We will try to hold such events more frequently in order to give cheese makers the opportunity to be well-known throughout the country. So far, we have registered 13 cheeses and in the near future this number will increase up to 50," Minister of Agriculture Zaza Gorozia remarked.
"It is important to revive this field in Georgia and this is good not only for us but also for facilitating the tourist sector in Georgia. The final goal of the event is to popularise our product and attract people," Speaker of Parliament Davit Bakradze said.
Figures made from cheese, crafted by Paata Sajaia from Chkhorotsku, were also on display. Attendees noted how difficult it was to believe that the small statues were made of cheese. Sajaia said that his cheese figures are made with Sulguni and Nugela mineral water, although the exact recipe is a family secret. "My grandfather made those cheese figures and he taught us grandchildren, so we are continuing his work," he said.
Erekle Gamkrelidze, Deputy General Director of Sante GMT Products, says that cheese-making is a very popular tradition in Georgia and his company will begin producing cheese soon. "It is the first time we are participating in such an event. Our cheese is not for sale in Georgian markets so far, but it will be available after a month. We begun producing three types of cheese and we promise our consumers the best quality product and a very tasty one," Gamkrelidze told
The Messenger
.
Director of the Georgian Cheese project Ana Mikadze says that her idea was been praised by the Ministry of Agriculture and for helping to promote Georgian cheese in the marketplace. "The event has become so popular that four festivals have been held during the past two years. Forty types of cheese are processed nowadays in Georgia and its popularity raises daily. Our cheese has a good taste, a high quality and [is natural], which make it popular and a best-seller," Mikadze remarked.
Georgia is known as the homeland of wine, but what many people do not know is that the production of cheese has a 28-century history.