Donald Trump unveils Trump Tower project in Batumi
By Salome Modebadze
Monday, April 23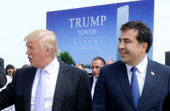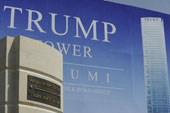 Everyone in the world is talking about Georgia and the magical transformation of this country, American tycoon Donald Trump said at a presentation of his Trump Tower project on Sunday. The five-star residential and entertainment complex with a sea view and exclusive services is Trump's first investment in Europe.
The American businessman arrived via private jet for a two-day trip to better familiarize himself with the latest reforms in Georgia, where he has invested millions of dollars.
Speaking of Georgia as one of the most amazing places in the world, Trump welcomed the country's investment environment and stressed that President Mikheil Saakashvili's active engagement in the decision-making process was a decisive factor for investing in the country.
Calling it "the miracle of the 21st century" Saakashvili said that for a small country with no natural resources and a difficult geopolitical situation, this project is phenomenal. He spoke of Georgia as an old country that needs to be rebuilt into the "Singapore of the Black Sea" with wealthy and educated people. "This is not just my ambition, but our realistic plan and Trump's visit can prove that," he said at the presentation of Trump Tower Batumi.
Georgian Silk Road Group (SRG), owner of the project, is using Trump's name under an agreement with the Trump Organization signed during Saakashvili's visit to the US last spring. As SRG Chairman Giorgi Ramishvili said, in a year this project will have "the New York spirit" brought by the American businessman, and will become "the symbol of Georgia."
As the Trump Organisation's Executive Vice-President Michael Cohen explained, a brand like Trump is extremely important for the Georgian market, as it is becoming a player in the global economy. Minister of Economy and Sustainability Vera Kobalia called the project "unprecedented" and said it would become a "green light" for new investments in Georgia.
A day earlier, Saakashvili hosted the American tycoon at his presidential palace in Tbilisi. Calling Trump a very special guest, he thanked the billionaire for his friendship, cooperation and investment in the country. "The fact that Trump is in Georgia today proves that despite the problems, poverty and other issues, our country is standing on the road to success," Saakashvili said, praising Trump for his risk-taking personality and worldwide success.
The American welcomed Georgia's rapid development and expressed his great love and respect towards the country, confident that Trump Tower Batumi will become an even greater project than they expect.