Centre for Competitiveness opens in Tbilisi
By Messenger Staff
Monday, April 23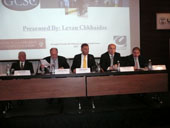 On April 19, the official opening ceremony of Georgia's Centre for Strategy Competitiveness and the Close Out report of USAID/Caucasus PhD program in Business Administration at Caucasus University was held at Radisson Blu Iveria hotel in Tbilisi.
The establishment of the centre, based on the methodology of Harvard Business School's Institute for Strategy and Competitiveness, is the result of a program financed by USAID that ensured the further development of the PhD program at Caucasus University. It attempts to bring the knowledge and experience of qualified PhD graduates together with the practical activities of the research centre. The majority of fellows at the centre are doctors and professors from the Caucasus University.
Deputy Minister of Education and Science Nodar Surguladze, USAID mission Director Stephen Haykin, President of Caucasus University Kakha Shengelia, and Professor of Georgia State University Bijan Fazlollahi spoke as the evening's honoured guests.
The Centre for Strategy and Competitiveness is a "nonprofit research center that aims to evaluate the microeconomic aspects of competitiveness and economic development, defining parameters for competitiveness as a separate company or economic region and their interdependence. One of the major and prior issues to the center is cluster analysis as one of the most important part of global economy while forming the competitive strategies for firms and regions".