Czech delegation in Tbilisi to strengthen trade strategy
By Ernest Petrosyan
Tuesday, April 24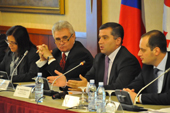 Speaker of Parliament Davit Bakradze hosted the Chair of the Czech Republic Senate, Milan Stech, on Monday, after the opening of a Czech-Georgian business forum in Tbilisi. Representatives of approximately 20 Czech companies participated in the forum, from sectors such as tourism, agriculture, distribution, development, and finance.
Bakradze noted that Georgia's integration in European and Euro-Atlantic structures, as well as other economic matters, were discussed at his meeting with Stech.
The forum adopted a strategy of export support, in which twenty other countries, along with Georgia and the Czech Republic, are involved.
"Before visiting Parliament, we had elaborated on... a trade development strategy, which will involve 22 states, and Georgia will have a leading position among them, because it is a good partner," Stech said, addressing forum participants.
"I dare to state that the Czech Republic, a little while ago, had undergone the same [reforms] that Georgia is now undergoing. According to my estimation, Georgia is the most progressive and success-oriented country, and our cooperation will continue in future," he added.
Stressing the importance of Georgia's integration into NATO, in particular the upcoming Chicago summit, he noted that the position of NATO member states will remain the same, including the support of the Czech Republic.
"The position which I announced today is not only mine or the position of Czech politicians and Parliament, but it is a view of Czech society. The Czech Republic in principle supports Georgian's integration in the European Union and NATO, as it is very important for this country to resist external threats," Stech affirmed.
He noted that a decision about Georgia's entry in NATO may not be made at the upcoming Chicago summit, but eventually Georgia will enter NATO.
"It was the Czech Republic Senate that was one of the first legislative bodies, just a few weeks after Russian aggression, to adopt the resolution," Bakradze said, referring to a declaration of support for Georgia made by the Czech body.
He maintained that the visit of the Senate Chair does not only have political meaning, as the delegation led by Stech includes Czech business people. He expressed hope that the Georgian and Czech business leaders will find common interests, which will make provide opportunities for foreign investments in Georgia.
"The Czech Republic is our successful partner in economics. I hope that the business forum will give an opportunity to see more Czech investments in Georgia and more Georgian exports in the Czech Republic," Bakradze said, adding that turnover between the countries amounted to $100 million USD, while Czech investment was approximately $350 million USD.