From Easter to Ascension showcases best of Georgian and international musicians
By Salome Modebadze
Tuesday, April 24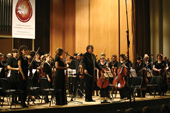 "Agnus Dei", a new church hymn composed by the Catholicos-Patriarch of All Georgia Ilia II, closed the Tbilisi section of 7th International Festival
From Easter to Ascension
on April 22.
The Festival was founded by the International Charity Foundation of the Catholicos-Patriarch of All Georgia and Akaki Ramishvili's Foundation Tradition and Innovation, and aims to popularize Georgian secular and religious music along with international classical music through performances by new names and faces.
Soprano Nana Kavtarashvili, better-known under the pseudonym Miriani, was given a special responsibility to perform the Patriarch's composition. She made a special visit to Tbilisi for the festival, and is scheduled to tour Europe this year.
On April 19, the second day of the Festival, 23-year-old first prize winner of the 2012 musical competition in Milan, Aljosa Jurinic, left no one indifferent. Playing romantic compositions by Schumann, Chopin and Liszt, Jurinic left a great impression on the Georgian audience, returning twice for encores.
Alexander Korsantia, the Artistic Director of the Festival, was a jury member at the Milan competition, and it was his idea to bring the young pianist to Georgia. "I'm especially happy to be in Georgia because my teacher is Georgian pianist Eliso Virsaladze," Jurinic told
The Messenger
.
From this year on, every second winner of the Milan competition will participate in the
From Easter to Ascension
Festival. According to organizer Mariam Davitashvili, it is important for the country to promote the festival at an international level.
At the Vocal Music evening, which commemorated the late concertmaster and teacher Vazha Chachava, Professor Revaz Tavadze remembered his colleague and friend with great respect, while concertmaster Victoria Chaplinskaya, who has been actively cooperating with the festival, spoke about Chachava as a gifted musician whom the musical society greatly misses.
Cellist Suren Bagratuni, alongside violinist Nino Davitashvili, led the Chamber and Instrumental Music evening with Georgian Sinfonietta. Composer Otar Tatishvili's new musical piece Ascension, presented on April 21, was dedicated to the Festival.
"By blessing of His Holiness the Festival
From Easter to Ascension
honours people with special merit in holding the festival," Lasha Zhvania, Head of the Catholicos-Patriarch's Foundation, said while presenting awards to conductor Zviad Bolkvadze and Maestro Vakhtang Machavariani, the former Chairman of the Foundation Irakli Kadagidze, alongside Davit Sakvarelidze, Director of the Tbilisi Opera and Ballet Theatre, and Chief Conductor and Artistic Director of Batumi Opera and Symphony Orchestra Davit Mukeria. It was also announced that deserving students of the musical seminary will receive a one-year stipend from the Patriarch's Foundation.
Today,
From Easter to Ascension
will move to Stepantsminda where Nana Kavtarashvili and Mamuka Manjgaladze will perform with TSU Gordela. On May 8 in Martvili, music from the films of Charlie Chaplin will be staged. On May 22, Artistic Director of the festival and pianist Alexander Korsantia would perform in Kutaisi, and on the Day of Ascension on May 24 the festival will close with Georgian composer Ioseb Bardanashvili at the Art and Music Centre in Batumi.