Foundation laid for hydro-electric plant in Svaneti
By Salome Modebadze
Tuesday, April 24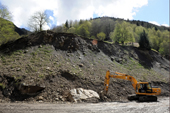 Construction of a new hydro electricity station in Svaneti has begun. As President Mikheil Saakashvili said at the foundation-laying ceremony, the Neskra power plant will provide the entire region with electricity within five years. Calling it "the beginning of historical construction" for the whole country, the President said that four or five years ago it was impossible even to dream about a power station with such capacity.
The $630 million USD project is carried out with support of the Chinese company Sinohydro, but Saakashvili promised that 90% of its employees would be Georgian. The President hoped that the 1000 local employees would manage to effectively build the new plant.
Promising to finally eradicate the problem of unemployment in Svaneti, he spoke of energy as Georgia's "backbone" for success and independence and hoped that in the future Georgian specialists would work on similar projects abroad.
Recalling the hardships of the 1990s, when people lacked light and heat, Saakashvili stressed that the Rose Revolution has dramatically changed the situation.
Accusing the former government of robbing the country, Saakashvili spoke of their "mafia of energy." "If they would have continued governing we wouldn't have any energy at all," he said, affirming that his team is always ready to serve the people's welfare.
The President also said that he welcomes the opening of even the smallest businesses in the country because it is a source of income for Georgians.
He also made reference to Georgia's problems with Russia, saying "We have tasted democracy and that scares the occupants".
Announcing that construction of another, larger power station will begin in several months, Saakashvili stressed that independent energy will strengthen Georgia's economy.