Kalandadze: International organizations responding to observation invitation
By Gvantsa Gabekhadze
Tuesday, April 24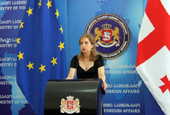 According to Deputy Foreign Minister Nino Kalandadze, some international organizations have already responded to the government's invitation for long-term pre-election monitoring. However, neither the written replies nor the text of the actual invitation have been released, prompting criticism of the Ministry.
Kalandadze says the OSCE's Office for Democratic Institutions and Human Rights has expressed a desire to send its observers as soon as possible. "We do not wait for an official written letter on the issue. The issue was raised in all big cities and brought only positive assessments. We are sure that observation missions are interested in coming to Georgia".
The Deputy Foreign Minister has also rejected reports circulated by some non-governmental organizations (such as Choice for Freedom) that the phrase "long-term observation mission" was omitted from the invitation text. "We have always fixed and paid attention to the importance of long-term observation missions thus, putting the issue under a question mark is illogical".