Numerous groups to observe update of voters list
By Gvantsa Gabekhadze
Wednesday, April 25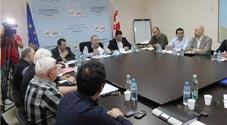 According to recent statements from a variety of political parties, they neither trust one another nor the Voters List Commission to properly check the list through door-to-door campaigning.
The chair of the Voters List Commission, New Rights representative Mamuka Katsitadze, officially announced the launch of the campaign on Tuesday, and personally appealed to all participants to refrain from party agitation while visiting homes. As Katsitadze noted, one of the biggest problems for the registration of voters are those individuals living abroad, and deceased voters.
Public movement the Voters' League has announced that they will carry out a separate door-to-door campaign from that of the Commission.
In response, Katsitadze has stated that he is not against alternative checking of the list. "If some others also check the lists and provide needed information, I can only welcome this. If they do not trust me, I trust them".
Democratic Movement-United Georgia is among those groups, and welcomes the Voters' League's initiative. The party believes that the Commission serves the administration's interests, and that "the process should be carried out by NGOs and not by political parties".
Chair of Georgian Dream-Democratic Georgia Manana Kobakhidze has also announced that her party will check the list. "We are already in the election campaign... There are shortcomings and problems regarding the voters list, [with] dead people and so on …We are going to recheck the lists by our own force," she asserted. Kobakhidze noted that some Georgians have expressed a wish to participate in the process, and those employed in door-to-door campaigning will receive a salary as dictated by law.
The International Society for Fair Elections and Democracy is observing the actions of Commission. Representative Tamar Bartaia told
The Messenger
they have already observed the register selection process and 351 training sessions. Next, the organization will observe the process itself. "First, our representatives will follow the registers, then we will check the [households and ask] whether the registers really were there or not," she said.
Bartaia believes that the process itself is useful and can ensure an accurate election list. "It is very important that a methodology is used during the door-to-door checking process. We also attended the process of creating the methodology of the Commission, made our recommendations, and think that the methodology is quite realistic. I cannot say at the moment how well it will work, as this will be revealed directly during the process [itself]".