Abkhaz government turns against foreign diplomatic presence
By Ernest Petrosyan
Friday, April 27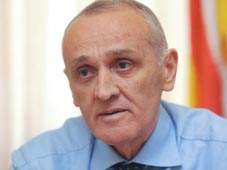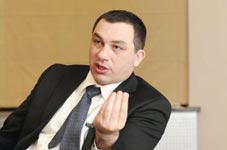 Recent decisions made by the Abkhaz government have indicated a sharp turn against the foreign diplomatic corps in that country, due to their perceived closeness with Tbilisi.
After the Abkhaz Foreign Ministry refused to participate in the Incident Prevention and Response Mechanism (IPRM) on April 24, later accusing the EUMM head in Georgia Andrzej Tyszkiewicz of disrespecting Abkazia and declaring him persona non grata, President Alexander Ankvab told German Ambassador to Georgia Ortwin Henning that "Abkhazia no longer wants to connect with the world via Tbilisi".
According to local news agency APSNYPRESS, Ankvab said that despite the frequent meetings with many diplomats accredited in Georgia, their position on Abkhazia has not changed. "We have to choose another format of dialogue," he said, adding that political bargaining is not appropriate and it is not worth "wasting time" with different development programs. The President claims that Abkhazia is not isolated; on the contrary, he says, it is developing and is grateful to Russia for that. He added that relations with Georgia can be changed after Tbilisi signs a non-use of force agreement.
Ankvab did not exclude the possibility that the Abkhaz leadership in the foreseeable future will not communicate with diplomats accredited in Georgia. "We do not persuade anyone to recognize us, but we do not want to communicate with you via Tbilisi," Ankvab said.
Meanwhile, co-chairs of the Geneva talks from the EU, US, OSCE and UN expressed "concern" over the failure to hold a 36th meeting of the Incident Prevention and Response Mechanism, which was scheduled for April 24 in Gali, Abkhazia.
The IPRM, a framework elaborated within the Geneva talks, involves a hotline to facilitate prompt exchange of information, and serves as a venue for regular meetings, usually once per month, between Georgian and Abkhaz officials, as well as representatives of the Russian troops stationed in the breakaway region. Meetings are chaired by UN representatives and attended by the head of EU Monitoring Mission in Georgia.
On Wednesday, Abkhaz Foreign Minister Vyacheslav Chirikba told Radio Liberty's Russian-language service, Ekho Kavkaza, that Sokhumi was ready to continue participation in IPRM meetings, but on the condition that the EUMM would be represented by anyone other than its head, Andrzej Tyszkiewicz.
The Foreign Ministry accuses the EUMM head of ignoring Abkhaz requests to look into murders that took place in the Gali district in recent months. Chirikba claimed that when he asked Tyszkiewicz on the sideline of Geneva talks last month why he was ignoring those cases, the EUMM head responded that his mission would look into cases involving Abkhaz "corpses" after Sokhumi lets EUMM observers inside Abkhazia
"He used exactly that word – "corpses"; that was very disrespectful and cynical," Chirikba told Ekho Kavkaza.
The Georgian Foreign Ministry has also expressed deep concern regarding the delay of the Gali IPRM meeting. The Ministry released a statement calling Russia "uncomfortable" with a neutral and impartial presence on Georgian territory. The Georgian government also called on Moscow to ensure that the work of the IPRM and Geneva talks proceed unhindered.
"We are absolutely sure that Moscow is behind it," Deputy Minister of Foreign Affairs Sergi Kapanadze remarked. "Moscow is a key decision-maker on these issues [for Sokhumi] and Moscow will be responsible if the Geneva talks are endangered."
"The Geneva talks and IPRM are important mechanisms. So far they have been functioning based on the principles agreed between all the participants and it is very regretful that now these principles are being revised unilaterally," Kapanadze said.
Giga Bokeria, Georgian National Security Council Secretary, claims that Abkhazia's policies are being justified with "irresponsible and foolish" statements from its politicians.
Bokeria also sees Russia behind these decision, and says that Russia is trying to weaken and blackmail the EUMM. "They however will not succeed in this regard. I am convinced that our allies will react accordingly," he said, expressing hope that the Geneva talks will not be threatened because of this recent row.
Analyst Vasil Chkoidze links the diplomatic conflict to what Russia has to conceal in Abkhazia – notably, an active rearmament process and the high crime rate, for which Russian troops should be responsible. "The fact that the negative mood among the Abkhaz population is increasing is also being concealed by Moscow," he said.