Medvedev attacks Saakashvili as presidential term ends
By Gvantsa Gabekhadze
Friday, April 27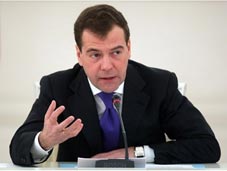 President Mikheil Saakashvili is "an empty place, just a zero", and sooner or later Georgia will have a leader who will cooperate with Russia, outgoing Russian President Dmitry Medvedev said on Thursday.
Calling the Georgian nation "precious to [him]", Medvedev claimed that he has no antipathy towards the country. As for the August 2008 war, he maintained that "Russia was forced to take that step in order to defend the victims of violation, Abkhazians and South Ossetians..."
In response, Georgian government representatives referred to his statements as Moscow attempting to involve itself in domestic Georgian issues. "The Georgian people have already responded to Russian leaders. Georgians want freedom and sovereignty and the Georgian government is acting based on the demand of its citizens," MP Goka Gabashvili remarked, but noted that he believes there are political actors in Georgia serving Russian interests. "I can name Georgian Dream and its leader, Bidzina Ivanishvili, who is voicing Russian aspirations in the state." Fellow MP Akaki Minashvili added that "Russian hysteria is due to Georgian advances toward Europe and the government's success".
Viktor Dolidze of Our Georgia-Free Democrats (a Georgian Dream coalition member) told
The Messenger
that such statements from government leaders is not acceptable, "as the state leaders should be oriented on forming dialogue and solving problems through it. Making a statement that cooperation with another state leader is unacceptable is a negative attitude, as cooperation between states... is most essential".
Dolidze also stated that there was nothing surprising about the comments made about Georgian Dream, saying the government is "afraid of the coalition, they are afraid of Bidzina Ivanishvili. We are going to carry out all actions based on the law, achieve changing of the government through elections... despite government wishes for us to drop out of the race".
Analyst Nika Chitadze understands the scepticism surround Georgian Dream and their declarations of support for a Euro-Atlantic course. "During the period of communist government, the leaders... claimed that they would ensure freedom for the labouring class, however, they carried out different policies".
Fellow analyst Soso Tsiskarishvili disagrees, saying that the government follows a very simple formula: "If someone is not a government supporter and does not praise the works carried out by them, it means that he is a betrayer and a Russian agent."
Ramaz Sakvarelidze, also an analyst, says that the government is making mistakes that enable Ivanishvili to lay low politically. "When a rival makes mistakes, why should one disturb him?" However, he noted that Ivanishvili needs to change his strategy to address the accusations of being a Russian "puppet". The administration "have tried their best to sow doubts in society... Ivanishvili needs to rise up".
Commenting on Medvedev's attack on Saakashvili, analyst Vasil Chkoidze remarked that no one is a zero in politics like Medvedev himself, "Who is permanently ruled by Vladimir Putin and was used by him to lengthen his political existence."