Parliament reviews roll out of voluntary reserve system
By Ernest Petrosyan
Monday, April 30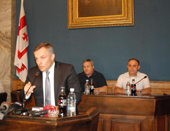 On Friday, the Parliamentary Defense and Security Committee held discussions on Georgia's reservist forces. According to the eight page document presented by the National Security Council, the new reserve concept will be focused on encouraging "broad involvement" of civilians in territorial defense measures.
"Taking into consideration Georgia's security environment and the country's geographic specificity, Georgia's self-defense planning is based on the principle of 'Total Defense'," the document reads. "The priority is to develop such a system, which, in case of war, will be capable to carry out tasks for defense of territory and population and, in case of natural disasters, provide help to the civilian authorities".
The new system is divided into two parts: Land Forces Reserve (LFR), which is directly linked with the management system of the Land Forces, and the Defence Reserve, which is managed by the National Guard and trained by the Department of Defense.
The LFR or self-defense force will be staffed with both compulsory reserve personnel and volunteers. As the government envisages the system, reservists are tasked to provide assistance to the armed forces and, if necessary, to replace them in combat operations. The LFR will be under the command of the land forces of the Georgian army.
As for the Territorial Defense Reserve, it will be composed of volunteers who will be in charge of civil protection during wartime. Volunteer reservists will be recruited based on their place of residence. In peacetime, like the LFR, the volunteer reserve will also be used in time of emergencies. The Territorial Defense Reserve will be under the command of the National Guard.
As Deputy Secretary of Georgia's National Security Council and former Deputy Defense Minister Batu Kutelia said during the meeting, 13000 volunteer reservists have been recruited and trained thus far. He also said that 0.9% of Georgia's 2012 defense budget, or 6 million GEL, has been spent for that purpose.
President Mikheil Saakashvili announced on April 11, that by this summer Georgia would have a 70 000-strong well-trained volunteer reserve, with the number set to increase to 150 000 by next year. He said that the system would provide each village in the country with a local unit for self-defense in case of foreign aggression.
The Georgian government has had a number of attempts to redesign efficient reserve troops, as the system in action during the 2008 August war failed. A concept for the new system was tabled in late 2009; after that, the relevant law was amended in summer 2010. In October 2011, the Defense Ministry announced the plan to form a system of "voluntary reserve forces", designed for those who are willing to be enlisted, but were not eligible for compulsory reserve service.