Merabishvili defends MIA at government hour
By Salome Modebadze
Monday, April 30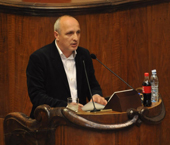 "Every governmental figure was engaged in military operations during the Georgian-Russian war," Vano Merabishvili, Minister of Internal Affairs, told the parliamentary opposition at the government hour on April 26. Merabishvili advised opposition representatives to be very careful with August war-related issues and avoid statements which may encourage "enemies to start an active war".
"Any public statement should be moderate, not to damage the common aspiration we hold," he said.
Despite what he called "tense" relations with Russia, Merabishvili welcomed Russian investment in Georgia and stressed that the number of tourists coming from Russia has doubled since the visa regime was lifted.
He also spoke of Georgian police reforms as a trademark of the country internationally, and Merabishvili announced that Lithuania is the first country to import Georgia's transparent police buildings – noting that it is "high time" to have similar buildings in Russia.
Speaking about former member of the Tbilisi-backed Provisional Administration of South Ossetia, Merabishvili said that Vladimir Sanakoev has always worked actively in the breakaway territories to carry out Georgian policy. Sanakoev – who has left the country – announced his alleged cooperation with Russian special services, but is welcome to return to Georgia if he wishes to participate in the process of integration of South Ossetia to Georgia, the Minister affirmed.
Merabishvili also claimed that police have not assaulted citizens nor have they had any serious clash with criminals for the last three or four years. Recalling how difficult it was for Georgian law enforcement to gain the public's trust, the Minister maintained that the police are not politicized. According to the Minister, police are viewed as trustworthy by 87% of the public, higher than support for the United National Movement party. "If the public had the slightest concern that police were politicized it would have a much lower rating," Merabishvili said.
Explaining the Eastern and Central European trend of merging "power-wielding structures", the Minister stated that the Ministry of Internal Affairs will not be decentralized.
He remarked that only a small number of Georgian police officers are "militarized" along disputed borders. Calling it "inequality", Merabishvili said that Georgian police stand against tanks with light arms.
Merabishvili was among four ministers who answered preliminary questions from the Unity for Justice parliamentary faction. Dimitri Shashkin, Minister of Education and Science, Khatuna Kalmakhelidze, Minister of Corrections and Legal Assistance, and Nika Rurua, Minister of Culture and Monument Protection also provided MPs with information about their ministries at the government hour.