Shashkin butts heads with Unity for Justice at government hour
By Salome Modebadze
Monday, April 30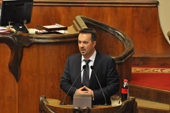 Minister of Education and Science Dimitri Shashkin called questions posed by parliamentary faction Unity for Justice "unqualified." As Shashkin said during the government hour last Thursday, the group's questions were based on the "Soviet ideology" dismissed by Georgia long ago.
Complaining that the Minister had left their questions unanswered, Unity for Justice members accused Shashkin of conducting a "black PR" campaign against them.
The faction wanted to know if funding for education would be increased, if the government plans to restore free higher education, and what are the measures to prevent cessation of the status of students due to failure of payment.
As the Minister explained, 45 million GEL has been allocated for grants at the Unified National Exams annually. From 2013, students who fail to win those grants will have an opportunity to receive a scholarship from state universities if they successfully finish their course.
Shashkin noted that negotiations with Tbilisi State University and Georgian Technical University are underway. He called the special funds these universities will create a "stimulus" for their students.
Every successful student will have an opportunity to either win or improve their grant at special skill exams held at universities. As the Minister said, students who will have the highest scores at their universities will receive grants.
Shashkin also explained that even those ethnic minorities who do not earn a graduation certificate that gives them entry to a Georgian university may still pursue higher education abroad with their diploma. Referring to the recent ethnically-tinged brawl in Parliament, the Minister explained that half of Armenian and Azeri ethnicity studentss continue studying in Georgia, while the other half apply to Armenian and Azeri universities.
Although Unity for Justice members encouraged the Minister to speak about the rumours of teachers fired for political reasons, Shashkin ignored the topic. MP Gia Tsagareishvili even named particular schools and teachers, but Speaker Davit Bakradze said Shashkin could drop the question as it was not on the faction's preliminary list.