Spanish lawmaker urges Georgians to ignore Russian intimidation
By Ernest Petrosyan
Thursday, May 3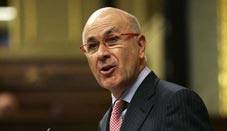 The Chair of the Spanish Congress Foreign Affairs Committee, Josep Antoni Duran i Lleida, has called on Georgian citizens not to allow the Kavkaz 2012 Russian military exercises to influence the October parliamentary elections.
During his official visit on Wednesday, the head of Spanish delegation met with Minister of Foreign Affairs Grigol Vashadze, Parliamentary Foreign Relations Committee Chair Akaki Minashvili, and the Chair of the EU Integration Committee, David Darchiashvili.
As the Spanish lawmaker noted, both the Russian drills and Georgian parliamentary elections will occur this autumn. He attempted to dissolve fears in Georgia and encouraged people to vote.
Duran i Lleida, on behalf of Spain, expressed his support for Georgia's territorial integrity and condemned the Russian occupation.
He also discussed issues of bilateral relations and European integration. He hailed Georgian political, economic, and social reforms noting that they will enhance Georgia's European integration.
"Everything will facilitate the process of integration into European and Euro-Atlantic structures. Reforms are a supportive factor of integration, and I support it. We appreciate your commitment to the European and Western family and I hope that at the Chicago summit it will at least be acknowledged that Georgia is doing well with its commitments, which in future can be a good basis for NATO membership," he said.
As for the EU integration process, he said that Georgia is of course part of a "Christian and European family", and if not in the near future, eventually Georgia's membership will be "celebrated".