Chamber of Control insists questioning was legal
By Gvantsa Gabekhadze
Thursday, May 3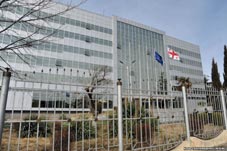 The Chamber of Control has responded to a report from the Public Defender, which criticized the organization for violating the Constitution.
Ombudsman Giorgi Tughushi published his report regarding the actions carried out by the monitoring service of the Chamber in Georgia's rural regions, identifying those legal violations undertaken by the department while interviewing opposition activists.
Tughushi provided recommendations on how the Chamber's shortcomings might be eradicated, including "detailed rules to be drafted if such interviews are necessary in the future, including transparency of how and when questions will be asked". He affirmed that any violations of ethical norms must be punished, and that video and audio recordings of the entire questioning process must be taken.
Deputy Chair of Chamber of Control, Tina Bokuchava, responded to the report, saying, "Fighting against corruption will proceed in the frame of the law". She noted that it is important for the department to listen to remarks and recommendations from all sides involved in the issue. "I want to point out some innovations have already been launched in our activities, for example use of modern technical means [and] introducing the position of citizens' consultant". She affirmed that the Chamber is also actively collaborating with civil society organizations.
The actions carried out by the monitoring department prompted criticism from Georgian civil society activists, such as the Georgian Young Lawyers Association. That group accused the Chamber of having political motivations in their questioning.
The international community also had a negative reaction, with comments from US Ambassador to Georgia John Bass noting that the Chamber is not building trust with its actions.
Government MP Nugzar Tsiklauri said that the questioning performed by the Chamber served the goal of "controlling the flow of financial recourses and oligarchs' money in the state," which he called an "important process" that is in complete accordance with law. "However," he noted, "It is also important that the Chamber of Control's actions be more clear concerning some facts".