Government plans Diaspora parliament
By Salome Modebadze
Thursday, May 3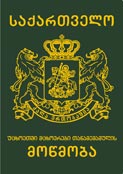 A Diaspora Parliament is being planned for Georgian citizens living abroad. Papuna Davitaia, Minister for Diaspora Issues, spoke about the goal of the new parliament at the Diaspora and Caucasus Issues Committee session on Wednesday. Calling it "a Georgian innovation" Davitaia explained that the specialty of this "deliberative body" is to give Georgians living abroad a platform on which to share their opinions.
"This is a step, which will make Georgians living abroad feel that they are fully engaged in the processes going on in Georgia," the Minister said, stressing that the Diaspora will have the opportunity to share their views about political, economic, and cultural issues.
The 45-member body would have 30 members elected through elections while the remaining 15 MPs will be named by the Minister for Diaspora Issues to "balance unity in the parliament" between Diaspora groups. Cooperating with the Georgian Parliament and the Ministry for Diaspora Issues, MPs will hold five-day sessions at the national Parliament once or twice a year.
The speaker of the parliament, who will be chosen from the 45 MPs through an election, will have a special status at the national Parliament. He or she will attend Parliament meetings and deliver the messages of the Georgian Diaspora, but have no right to participate in votes.
As Nugzar Tsiklauri, Chair of the Diaspora and Caucasus Issues Committee, told The Messenger, there are approximately 25-30 countries that will be represented in the new parliament. The US, Turkey, Russia, and several European countries will have the largest representation of Georgian Diaspora. Tsiklauri explained that the name "parliament" does not mean that the MPs will be decision-making, but rather the body will serve as a council aimed at keeping contact with Georgians living abroad.
"In order to save their Georgian identity" the Diaspora parliament will enable emigrants to be actively engaged in Georgian life as well as share their own challenges. Stressing the importance of the idea for migrants, Tsiklauri noted that the parliament would preserve their Georgian identity by "not losing contact with them", stressing that now is the time to become active as younger generations are forgetting Georgia. The Diaspora Parliament is intended to be a bridge between Georgians all around the world.
The newly enacted law on Compatriots/Expatriates Residing Abroad and Diaspora Organizations defines the legal status of a compatriot/expatriate residing abroad and assigns overseas compatriot identity certificates (as Georgia does not recognize dual citizenship). Those citizens of foreign countries holding compatriot status are be granted certain privileges: they may reside in Georgia for a certain period of time, receive state-funded general/higher education, and represent Georgia on any national sports team.