Saakashvili celebrates renewal of Kutaisi
By Salome Modebadze
Friday, May 4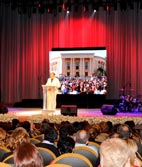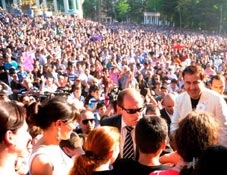 "We should return Abkhaiza as we returned Adjara," Georgian President Mikheil Saakashvili said at the renovated Kutaisi Theatre on Wednesday. The President worried that Georgia's control over Abkhazia was only "illusionary", because Georgian language was not spoken there, and no songs were dedicated to it – as if it were not part of Georgia.
"That is our geopolitics – Georgia is divided into east and west," he said, sharing how one part of his mentality belongs to Abkhazia and western Georgia, and another to the eastern part of the country. Emphasizing the "unimaginable aura" of the Black Sea resort Anaklia, he wished for his ashes to be scattered there when he passes away.
Celebrating the Day of Kutaisi in western Georgia, Saakashvili spoke of that city as "the symbol of Georgia's unity". The President explained his motivation for moving the Parliament building to Georgia's "second capital" – as Kutaisi was known during the reign of Davit the Builder in the 11th century.
Speaking of Kutaisi as the historical centre of the country, he chastised those who are against the moving, explaining that it is easier to control a single street in the centre of Tbilisi than control all of Georgia – referring to the political protests that have occurred outside of the Parliament building on Rustaveli Avenue in the capital.
Calling Tbilisi the "capital of the Caucasus", Saakashvili highlighted its importance for neighbouring countries as an economic, cultural, and administrative centre, but added that "Georgia is not only Tbilisi, and that's why it needs to be unloaded and decentralized".
"I don't know how they [workers] will finish construction [of a new Parliamentary building] by May 26, but I know for sure that they have to finish it," Saakashvili stated. He said that despite the criticism his political team often faces for "facades and buildings" they are oriented on the country's welfare – by, for example, encouraging people to start their own businesses and realize that they are "potential businessmen".
Although there is still poverty and unemployment in Kutaisi, Saakashvili promised that he would "transform Kutaisi from the city of the past into a city of the future".
Sharing infrastructure plans for Imereti, he said that a really wealthy and happy country can only be built under a government united in service of its people and a self-confident society.
"Although history didn't start with the Rose Revolution, we have started the modern epoch of Georgia's restoration together," he said.
The first session of Parliament in its new building will be held on May 26; after the October parliamentary elections, Parliament will be permanently located in Kutaisi.