Alasania accuses government of planting bomb in Zugdidi
By Ernest Petrosyan
Monday, May 7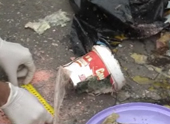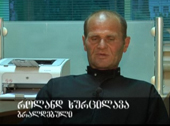 Leader of the Free Democrats, Irakli Alasania, has accused the government of planting an explosive device in Zugdidi, then defusing it. According to Alasania's allegations, the scenario was planned because of his visit.
"If today we are together here, and if today neither a mine, first placed and then 'found' by some officials, nor 'an emergency situation' scared you away from coming here, signals that the iceberg is on the move and this iceberg will reach October with victory [in the] elections," Alasania said, triggering laughter in an audience of supporters.
"From today, no one will be able to frighten us with Russian threats, with placed and then found bombs, [which aim] at forcing us to change our mind for the election day," he continued.
Prior to Alasania's accusations, the Ministry of Internal Affairs released a statement said on May 4, claiming it had detained "an individual who crossed the administrative border line from the Russian occupied territory of Abkhazia and smuggled explosive materials to Zugdidi", a town in western Georgia close to Abkhazia. The accused, according to the Ministry, was from the Georgian-majority Abkhaz town of Gali. Roland Khurtsilava was reportedly arrested immediately after he left a black plastic bag with an explosive device at the fence of the Prosecutor's Office in Zugdidi.
Khurtsilava, in a video testimony, said in Russian that "an old acquaintance of mine, a military serviceman, lieutenant colonel Vasily Vasilevich" approached him and offered 80,000 Russian rubles (approximately $2,600 USD) for placing an explosive device at the Zugdidi Prosecutor's Office.
Khurtsilava said that initially he declined, but agreed later when he was again offered the same proposal by the same Russian serviceman.
In his remarks to the public, Alasania did not miss the opportunity to attack President Mikheil Saakashvili's recent remarks in which he said that Sokhumi "was not a part of Georgia".
"A few days ago we heard an absolutely reckless and immoral statement from the President of our country, who said that Abkhazia had never been part of Georgia. He wants to make people believe that as if 'nothing important has happened and we have not lost anything, because it has never been with us anyway'. By saying this, Saakashvili has actually told Russia, 'take away what you've invaded and occupied, but do not touch my authority'," Alasania asserted.
Saakashvili said that Georgia had "only illusionary" control over Abkhazia during the Soviet period. "The Georgian language was not heard in Sokhumi; tell me frankly, how many Georgian songs have been written about Sokhumi? All the songs were dedicated to Vera, Vake, Ortachala, Avlabari [neighbourhoods in Tbilisi]; there were good songs about Kutaisi too. No songs were written about Sokhumi; it was not a part of Georgia," Saakashvili said.
At a meeting with Zugdidi residents, Alasania promised that if the Georgian Dream wins the parliamentary elections, confidence-building with the Abkhaz will be restored.
"We should show to Abkhazians that with Georgia they will have a much brighter future in the European house rather than under Russian occupation. But it requires the Samegrelo region and all of Georgia to be economically strong; this, however, will not happen if Saakashvili continues the Singaporization of the country and economic policies based on [former Minister of Economy Kakha] Bendukidze's advice," he said.
Meanwhile, Georgia's Prosecutor's Office has offered bail to those previously detained in terrorist cases, with the exception of Merab Kolbaia, the prime suspect. Kolbaia is accused in eight attacks, and is sentenced to 30 years in prison. Two weeks ago, he asked the Tbilisi Appellation Court to question him again, as he said that the first testimony he gave was made during torture. The court denied Kolbaia's appeal.