Saakashvili celebrates law enforcement reform on Police Day
By Gvantsa Gabekhadze
Monday, May 7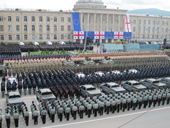 Fundamental changes in the conception of the police, unexpected outcomes for Georgia's enemies, acting as a role model for the entire Caucasus, and the current and future role of law enforcement were the main themes addressed by President Mikheil Saakashvili during the Police Day celebration in Gori on Sunday.
While speaking of the religious significance of May 6, which is also St. George's Day, the President recalled the recent past and referred to the date as a day of "banishment of one of the most dangerous, feudal, harmful, separatists – former Adjara governor Aslan Abashidze – and bringing back the region in the Georgian constitutional space". Reminding the assembled crown of Abashidze's Russian ties, Saakashvili spoke about the support of the Georgian public for his actions.
He also re-iterated the changes that have been made to Georgian law enforcement, from a time when they struggled with "corruption, a negative perception in society, [and] a very low level of trust". He noted that reforming the police alone was not enough, but the government has been able "to change the public mentality". Support for, and trust in, the Georgian police is unprecedentedly high, "equal to the Church and armed forces," Saakashvili asserted.
He also noted that such dramatic changes caught other countries by surprise, especially those that are hostile to Georgia. "As from the viewpoint of the enemy, Georgia is a state where people can sing and dance well and entertain others, where there is good food and drink, [but] not a people who can do something serious. We changed that attitude and displayed to our conquerors that they will never see what they had seen," he asserted.
The President called Georgia a model for the entire Caucasus. "We managed to create a modern, consolidated state in record time, it is most exciting," he said, taking the opportunity to chastise Russia. "Russians have tried to repeat some of our achievements, but they failed and justified this [by saying that] compared to other countries, Russia is large and fundamental changes are difficult to make there. But in reality, one must have a great desire for this, and a modern [way of] thinking".
Saakashvili claimed that "thousands of millions [of rubles] arriving from north are being spent for Georgia's blackening, [for] the conqueror to create a maximally profitable political reality inside this country for its own purposes," adding that due to Georgia's reforms Russia's plan will surely fail.
Also on St. George's Day, Minister of Internal Affairs Vano Merabishvili was awarded with the St. George medal for his services to the country.
In response to Saakashvili's speech, and to the Police Day parade, military analyst and representative of the Georgian Dream coalition Irakli Sesiashvili told
The Messenger
the state of law enforcement in Georgia remains poor. "They have to go against the law, refuse their professional responsibilities, and serve the current leadership of the country only. The current Georgian police are too politicized. I have very frequent talks with ordinary police representatives and listen to their problems very often," he asserted.
The analyst conceded that when the initial police reforms were being enacted, especially when the patrol police system was introduced, he was full of hope. "However, it was just an image, as soon as the current government felt some threat regarding loss of power, the police became their [personal security]. There are 16 departments in the Ministry of Internal Affairs, [and] everywhere transparent police departments are being built. They say that crime has been reduced. If crime has been reduced, then why is there a need for so many departments and police stations? If crime has been reduced, why there are so many prisoners in the country? The number of prisoners is currently a record in Georgian history. And why, according to several studies, the Ministry of Internal Affairs is the second most opaque structure?" he asked.
Sesiashvili thanked those police representatives who, despite alleged pressure, fulfil their duty accordingly – and appealed to all police "not to become part of the current government's illegal activities". He says that Georgian Dream has draft reforms already written, in which the number of departments will be reduced and the system will be less political, spearheaded by patrol police mastermind Levan Izoria.