Questions surround convict's death
By Salome Modebadze
Monday, May 7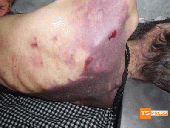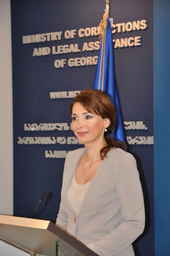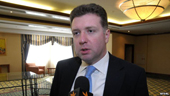 The death of Zurab Delianidze at Tbilisi's Medical Establishment 18 for Convicts and Pre-trial Inmates has provoked an investigation by the Ministry of Corrections and Legal Assistance (MCLA) and the General Prosecutor's Office.
Demanding an investigation into her husband's death, Ketino Beridze spoke of bruises on the late Delianidze's body, saying she suspected he was beaten to death in prison. She also believes that she has not been informed of the exact date of his death.
In an interview with Liberali magazine, former Ombudsman Sozar Subari spoke of the harsh conditions in the jail where Delianidze was placed, including allowing prisoners to develop bedsores. "These bedsores cause serious pain which is already a torture," Subari said, worrying that the simple ointment which could have provided relief was not administered. "The [ostensible] examination has proven that this man was practically tortured," he continued, explaining that he does not mean "physical pressure" but the conditions Delianidze lived in. "Zura wasn't a living being to [the prison administration]," Subari believes.
Independent expert Alexander Gejadze said Delianidze was not beaten, but he had developed extreme bedsores which had grown worse due to lack of treatment.
Recalling the story of Delianidze's "vague detention", Subari said that the 39-year-old security guard was sentenced to six years in prison for purchasing and concealing 500 grams of marijuana in November 2011.
On April13 of this year, Beridze went to visit her husband at a Batumi penitentiary and discovered that her husband had been transferred to Gldani prison 8 in Tbilisi "at his request".
Told that her husband was "under intensive treatment" neither Beridze nor her lawyer were allowed to see the detainee. It was only on May 1 when Beridze was given the opportunity to visit her husband, but was instead informed of his death. Prison administrators told her that Delianidze had died of a heart attack. "But it's impossible, because he was an absolutely healthy man," Beridze explained.
According to the MCLA, Delianidze was transferred to Medical Establishment 18 for an "intensive course of treatment" but died on May 1 from an "acute form of venereal disease".
Concerned over the circumstances of Delianidze's death, Minister Khatuna Kalmakhelidze handed the investigation over to the General Prosecutor's Office and promised to cooperate Kalmakhelidze also welcomed the involvement of independent experts.
Dr. Mikheil Arashvili, who treated the late detainee, confirmed information about the venereal disease, explaining that the patient did not know about his condition as had never visited the doctor before his detention.
Subari doubts this explanation. "They have no relevant specialists at the prison. Has anyone said they sent the blood analysis to a special department of another hospital?" he asked, wondering too why Delianidze was not released if he had really been suffering from a veneral disease. "Georgian prisons have become shambles where 'ownerless' people are predestined," he said, calling it "a systemic problem" in a country when prisoners are treated unequally.
Speaking of the "dictator regime" in Georgia, Subari asked international organizations working on human rights issues to increase their criticism towards the Georgian penitentiary system.
In a report following the MCLA's statement, the Public Defender's Office discouraged the Ministry from disseminating private and personal information about their convicts, "which the Ministry is obliged to protect by the Constitution". Public Defender Giorgi Tugushi recommended that relevant law enforcement bodies investigate such violations and raise the issue of criminal responsibility.
"I call on the Minister of Corrections, Probation and Legal Assistance to take relevant measures in order to avoid such violations of rights in the future," Tugushi said, explaining that the category of the diseases disclosed by the MCLA goes "beyond the issues of health of the person" and publication of information about sexually transmitted infections not only violates the lawful interests of the deceased person, but also casts a shadow on the patient's family members.
Encouraging investigators to study each and every detail of the case, the Public Defender hoped they would do so with "timely and adequate steps".
In his "Human Rights and Freedom Protection in Georgia in 2011" report released this March, Tugushi spoke of "improper distribution of power" at penitentiary facilities. According to his research, 140 prisoners out of a total 24,300, died in penitentiaries last year and the injuries found on detainees' bodies are enough to prove violation of the law. In addition, the increasing number of virus infections means that the strategies and principles for dealing with infectious diseases in jails also need serious change.