Social housing project enacting in four cities
Tuesday, May 8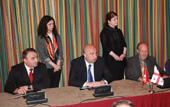 On May 7, a memorandum of understanding on the implementation of the project "Social Housing in a Supportive Environment in Tbilisi, Batumi, Rustavi and Bolnisi" was signed by the Ministry of Regional Development and Infrastructure, the Ministry of Internally-Displaced Persons from the Occupied Territories, Accommodation and Refugees, the Ministry of Health and Social Affairs of Adjara Autonomous Republic, the Kvemo Kartli Governor's Office, Tbilisi City Hall, the City Councils of Batumi, Rustavi and Bolnisi, and the Government of Switzerland (represented by the Swiss Agency for Development and Cooperation) at the Courtyard Marriott in Tbilisi.
The objective of the memorandum is to assist the government of Georgia in its ongoing social reforms targeting the most vulnerable populations, specifically internally displaced persons (IDPs). The project will provide adequate living conditions and social protection to socially vulnerable, marginalized, and homeless IDPs and facilitate their integration into society.
Five units of social housing with 60 apartments will be built in Tbilisi, Batumi, Rustavi, and Bolnisi, to be distributed between IDPs and local vulnerable populations – including elderly persons, the disabled, orphans, single parents, and families with children who require special attention.
The United Nations Development Programme is involved, in order to strengthen the capacities of municipal governments, improve services provided, and support beneficiaries.
The Swiss Agency for Development and Cooperation (SDC) has allocated a budget of 1,140,000 CHF (over 2 million GEL), with addition funding from Tbilisi City Hall to construct one of the houses in that city. The municipalities of Batumi, Rustavi, and Bolnisi will fully furnish their respective social houses with furniture and basic equipment, and finance internal gas supplies and external infrastructure connections.
The project, representing the last phase funded by the SDC in Georgia, will be complete by February 2013.