Hollande defeats Sarkozy in French presidential elections
By Ernest Petrosyan
Tuesday, May 8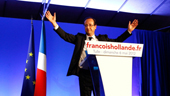 French socialist Francois Hollande has defeated incumbent President Nicolas Sarkozy in a tight presidential runoff. According to official polls, the centre-left Hollande won almost 52% of the vote, while centre-right Sarkozy received 48% of the vote and is the first French president to lose a second term since 1981.
In his victory speech, Hollande said he is "proud to have been capable of giving people hope again".
Sarkozy conceded defeat within 20 minutes of the polls closing, telling his supporters to respect their new leader. "Francois Hollande is the President of France and he must be respected," he said, wishing his rival luck.
Sarkozy, as analysts note, was punished for his failure to curb 10 percent unemployment and for his brash personal style. He indicated that he will have a "different" role in French public life, but did not confirm reports that he would retire from politics entirely.
"My role cannot be the same again. My engagement in the public life of my country will be different from now on. I am preparing to become just one French citizen amongst many," he said.
Sarkozy noted that "another era" was beginning but that he would continue to share the ideals of his conservative Union for a Popular Movement party. "You can count on me to defend these ideas and convictions. But my role can no longer be the same after 35 years of political service and 10 years in which I have lived every second for the responsibilities of the highest political office," he stated.
Hollande has accepted a flurry of congratulations from world leaders for his May 6 win. German Foreign Minister Guido Westerwelle called Hollande's victory a "historic event" and said the countries will work together to help the European Union respond to its debt crisis. German Chancellor Angela Merkel also invited Hollande to Berlin for talks, despite his defeat of Sarkozy, her closest European ally. British Prime Minister David Cameron also congratulated Hollande, vowing to work to strengthen bilateral relations. US President Barack Obama made his own congratulatory call, and invited Hollande to the White House ahead of the G8 and NATO summits later this month.
The leader of Georgia's Christian Democrats, Giorgi Targamadze, noted that he was not surprised by Hollande's victory even though he personally supported Sarkozy. As he told
The Messenger
, Hollande's campaign promises will not be easy to implement, especially fiscal ones. As for foreign policy, Targamadze noted that Hollande will not be as active, and Georgia will not be among his top priorities – but will not be at the bottom of the list, either. Noting a parallel between French and Georgian political culture, he said "I light-heartedly envy French political culture, and wish [it were] similar to Georgia. Such competitive elections of 2-4% difference, a healthy political environment, and opponent respect should be taken as an example," Targamadze added.
The Chair of the Georgian Social Democrat party, Gia Zhorzholiani, hailed Hollande's victory, saying that the wave of change was triggered by the 2008 global financial crisis. He asserted that Hollande's victory will impact not only France, but EU and the entire world.
As for parallels with Georgia, Zhorzholiani remarked that Georgians should work towards a similar political culture, attributing it not to politicians but to society. "Democracy envisages two presidential terms, but in Georgia like in Russia, authoritarian leadership is looking for some way to stay in power," he said.