Independent Experts Club released third book
Tusday, May 8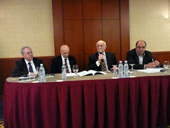 The Independent Experts Club has presented a third volume of articles called Georgian Democratization Roadmap, which covers issues of state security and the protection of human rights.
The book is edited by President of the Club, Soso Tsiskarishvili. Highlights include political analyst Archil Gegeshidze's survey of global processes and their influence on Georgia; Professor Revaz Gacheciladze writing about demographic security challenges; Manana Kobakhidze, chair of the Georgian Dream coalition, reporting on the penitentiary system; and human rights activist Ucha Nanuashvili on new legislative initiatives limiting human rights. Other leading political thinkers also contributed articles to the book.
The Independent Experts Club was founded in November 2008. It unites different independent experts in the branches of politics, economics, the law, conflict, democratic process, and other important fields. The goal of the club is to discuss hot topics, and those which are vitally important to the development of the country in a democratic direction. The values of the club are professionalism, pluralism, transparency, and equality.