GDRI addresses Georgian economic outlook
Thursday, May 10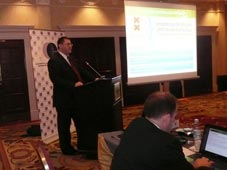 The Georgian Development Research Institute held a conference at the Tbilisi Marriott this week, entitled "Georgian economic problems and directions of development".
Presentations were made by economists Temur Murghulia, Davit Narmania, and Soso Archuadze. The conference was primarily dedicated to analysis of the current economic situation in Georgia, which presenters called "controversial". They critiqued the claims of the government and gave recommendations for policy directions in order to improve the country's economic outlook
Budgetary issues, taxes, and other topics were touched upon by the economists. Representatives of different political parties, independent analysts, and the diplomatic corps attended the discussion.