Lazika to receive special constitutional status
By Ernest Petrosyan
Thursday, May 10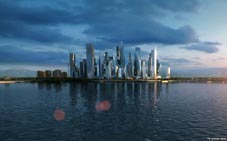 The Georgian government initiated a constitutional amendment on May 8, which envisages a "special constitutional status" for the planned town of Lazika.
As voted by Parliament, a one-month process of public discussions has been launched, which is required for any constitutional amendment before its approval by the legislative body. Parliament also approved a commission, within which a working group will discuss the Black Sea town. The commission will be filled by representatives of the United National Movement and members of parliamentary opposition parties.
"We have initiated in the Georgian Parliament a constitutional amendment according to which a new city, the new port city of Lazika that we are building in Samegrelo, will be granted a special status," President Mikheil Saakashvili told a seminar in Batumi on May 9.
The special status, as Saakashvili explained, means a special form of governance and a special jurisdiction for civil adjudications in order to make the town especially attractive to investors.
As MP Petre Tsiskarishvili clarified, a low tax regime and a high-level of self governance will be a characteristic of Lazika's administration.
Saakashvili first suggested the idea to build the country's "second largest city" in December 2011, while flying over Anaklia. The new city, built on nearby swamplands will have "at least half a million" people within ten years.
"It is a strategic issue for us to give special development status to this city, which is located a few kilometers from the occupied Abkhazia and… which has a very good climate and which is close to the railway," Saakashvili remarked.
"Lazika is of course an economic project. This city is not my fantasy; this project is based on the fact that the shortest trade route from northern China and Central Asia towards Europe runs through Georgian ports… Existing ports need supplementary points, new logistic centres," he continued.
The President is full of optimism about investment-attraction power of the project. In December, he said that "about a 1-1.5 billion lari" investment was required at the initial stage for the city to be built. Within the next four years, approximately 200 million GEL more will be spent and the rest the government assumes will be filled by private investment.
"This city is not a whim," Saakashvili asserted. "In a situation when 45% of our population lives in rural areas, we now need new urban centers for resettlement of these people and for their employment," he said.
The Georgian Constitution grants the status of capital city to Tbilisi, and autonomous republic to Adjara and breakaway Abkhazia. It is expected that a separate law on Lazika's status will be elaborated after the constitutional amendment on the planned city's special status is passed by Parliament.