Ivanishvili calls for rally in Freedom Square on May 27
By Gvantsa Gabekhadze
Thursday, May 10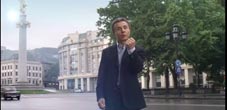 After announcing that he will launch his electoral campaign with a large scale rally, leader of the Georgian Dream coalition Bidzina Ivanishvili appealed to Georgians to assemble at Freedom Square on May 27.
Since his entry into politics last year, Ivanishvili has wanted to launch his campaign on May 26, Georgian Independence Day. However , due to other events planned for the day, Tbilisi City Hall was unable to meet their request and the gathering was moved to May 27.
In a video message on his facebook page, Ivanishvili spoke to his supporters with a definite message. " I, Bidzina Ivanishvili, leader of the Georgian Dream coalition, will be waiting for you here, at Freedom Square at 3pm on May 27, in order to start the process of reunification of our country together and to make the Georgian dream come true".
Statements and actions of the coalition have been dismissed as "communist" and "destructive" by the administration. "Georgian Dream is trying to return us to the Soviet past," majority representative Shota Malashkhia stated, according to majority MP, Akaki Minashvili.
Minashvili asserted that Ivanishvili himself is sceptical of Georgian Dream's electoral success. "He knows very well that success and, especially, coming into Parliament with a two-thirds [majority] is just a myth and nothing more".