Peacekeeping experts discuss options for the Caucasus
By Ernest Petrosyan
Friday, May 11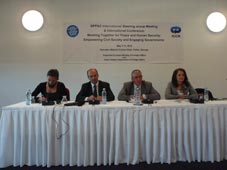 A conference of 35 international experts from various conflict regions gathered at the Sheraton Metekhi Palace in Tbilisi on May 8 to share their experiences with peacekeeping. The participants represented different organizations from the Global Network for Armed Conflict Prevention.
Experts spoke about the Balkan conflicts of the 1990s as well as about last year's "Arab Spring" revolutions.
Giorgi Khutsishvili, the head of the International Center on Conflict and Negotiation, described a mechanism which could help establish a dialogue with the Abkhaz and Ossetians in future. "A peace commission established at different administrative levels, [where] civil society leaders and government officials enter the commission on equal rights. Decisions taken by such a commission are much more balanced than those who would take power in itself. This is the example that we can use in the Caucasus, particularly in Georgia," Khutsishvili said. His proposal is similar to the peace commissions created by the governments of Kenya and Ghana, which have been in place for several years.
However, Emanuel Bombarde, Executive Director of the West Africa Network for Peacebuilding, said that implementation of such a commission will not be an easy process. Bombande himself has been involved in the peace-building processes in his native Ghana. He noted that authorities in different countries often jeopardize the negotiation process. Government officials often create problems by saying that "We have the power, thus we cannot sit at the negotiation table". Even if one of the opposing parties will agree on the creation of a "peace committee", it does not mean that other parties will negotiate.
In this case, according to Bombande, a particularly important role is played by intermediaries. They should be trusted by both sides; sometimes this is more important than the negotiation process itself.
"When we try to solve a particular problem, many people want to see the result – an agreement. But we forget that we not only focused on reaching an agreement, but also watched the process, leading to the results. In my experience, sometimes you reach a result, but in the process, people begin to understand each other, to understand what is happening in reality. And it gives people the opportunity to hear opinions and views of others," he said.
Prior to the round table meeting, Montenegro's Ivana Gayovic and Lebanon's Fadi Abi Allam held a press conference moderated by Khutsishvili.