National Bank proposed to monitor creditors
By Gvantsa Gabekhadze
Friday, May 11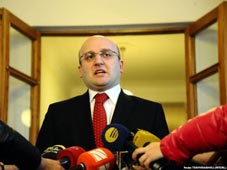 Control over creditor bodies will be strengthened in order to ensure Georgians' financial security, announced Chair of the Parliamentary Legal Committee, Pavle Kublashvili.
Changes to the law governing the National Bank were discussed at a first hearing in Parliament on May 10. According to the draft legislation, the National Bank will carry out monitoring of those financial organizations which offer loans and high interest rates on savings accounts.
"It is important to [create] a mechanism that will preclude such procedures that took place during the 1990s," Kublashvili said. He recalled a particular bank in that period whose leadership left the country with the deposits entrusted to them by their customers.
"Such events cannot be rules out, when some organizations [today] have appeared, suggesting an unreal 36% deposit [interest rate] to Georgian citizens. Such organizations must be permanently controlled by the National Bank, so Georgians are maximally protected from risks," he maintained.
The Christian-Democrats, the parliamentary minority party, have approved the new regulations and have even suggested that they do not go far enough. "If commercial banks issue low interest [rates] and high, risky loans, these organizations and accordingly those physical entities related to them will have serious problems. This sphere is too risky," Levan Vepkhvadze, a party representative, noted.
As economic analyst Shota Murghulia told
The Messenger
, putting financial organizations under the oversight of the National Bank is good policy, as the sector in Georgia is still high-risk. However, he has outlined that such decision might have a political connotation, related with controlling of political parties.