Saakashvili: Akhaltsikhe to be "tourist miracle"
By Salome Modebadze
Friday, May 11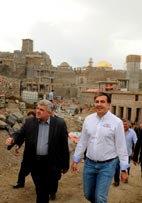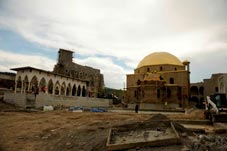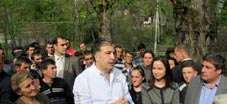 Georgian President Mikheil Saakashvili has called Akhaltsikhe the "tourist miracle" of Georgia. Visiting rehabilitation works of the historical region on Wednesday, Saakashvili emphasized the uniqueness of the place.
"This historical town will become the centre of tourists' interest without any competition," he said.
Comparing Akhaltsikhe with world-famous places in Italy and Spain, the President said Georgia's poorest region will become its main tourism destination. "The ongoing rehabilitation [process] is the way to solve this problem," Saakashvili stated, explaining that it may take 7-10 years. "But there was not even a vision before," he said, confident that the number of tourists would positively reflect on local agriculture.
Seven hundred specialists are working on the restoration of the "new fortress" of Akhaltsikhe. Called a symbol of tolerance, it is among the national monuments which will be returned their original glory after rehabilitation.
"The Georgian government doesn't have a day off," President Saakashvilki said after meeting with the people of Abastumani on May 9. Rehabilitation is planned to be started in Abastumani next year. Promising to make Abastumani one of the best resorts not only in region but all of Europe, the President said the project will end with the defeat of poverty in Georgia.
"Abastumani shouldn't be a blind alley. A series of resorts is created here, starting from Bakuriani, followed by Borjomi. The Akhaltsikhe miracle, with its surrounding territories and Rabat, [will be] the crown of our tourism industry and historical inheritance," he said.
As the President noted, architects and builders will begin planning the rehabilitation project this year, which will provide employment in the region. "We should train people so that they can work at tourist [centres]," he said, encouraging Georgians to start small businesses and create more jobs.
Saakashvili recalled how "hopeless and introspective" the situation was in Georgia five or six years ago. "It was even hard for us to imagine what to do, but we have accomplished lots of good projects," he affirmed, stressing that new job opportunities will eradicate all the problems.
The rehabilitation of Abastumani is due to end within a Modernization Plan in 2015.